'Kookaburra sits on the telegraph wire…'
How Australian children connected with the Overland Telegraph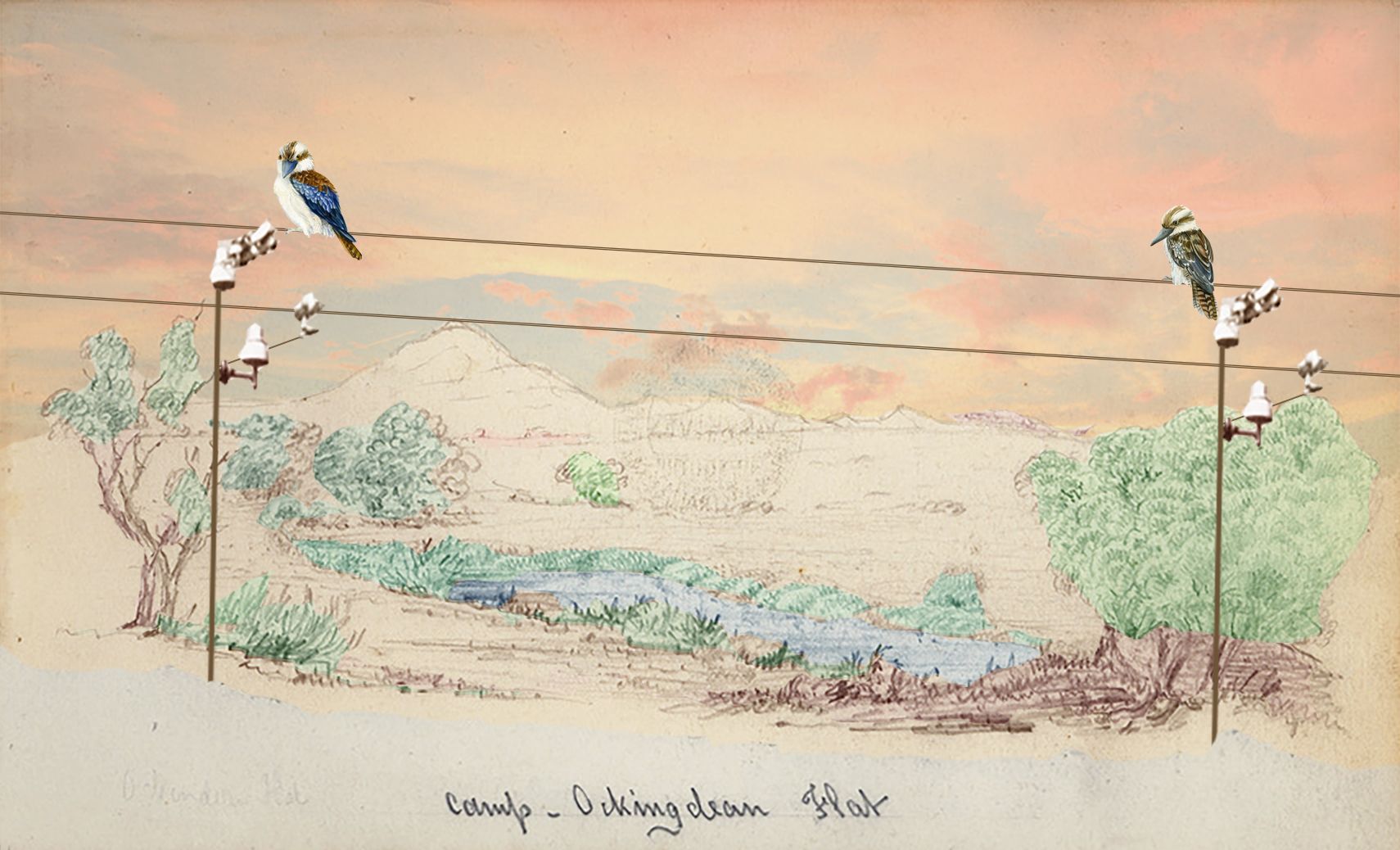 A colourised and altered version of a sketch by Benjamin H. Babbage featuring the Ockingdean Flat, which was one of the locations where the OTL was installed. SLSA: PRG 404/19/3/64
150 years of the OTL
The central Overland Telegraph Line (OTL) was such a remarkable feat of communications engineering that the legend seeped into the Australian psyche.
Official sources report the facts and figures, and history remembers the men most pivotal to the success of the OTL construction. Few official accounts of the OTL, and the after-effects, refer directly to children. If they do, it is usually without concern, and never by name.
To commemorate the 150th anniversary of this event, we will explore how the Australian child was impacted and influenced by, the Overland Telegraph.
The need for a transcontinental telegraph connection quickened as the Australian colonies expanded and men and states competed for economic gain. The responsibility for the construction of the OTL was given to the South Australian Postmaster-General, Charles Todd (later Sir Charles) who had previously been Superintendent of Telegraphs.
A hectic two-year construction phase began in 1870, with the route taken by the OTL following the surveys recorded by private surveyor and colonial explorer, John McDouall Stuart. Stuart had identified the most resource-rich path through the centre of Australia by appropriating traditional trade routes created and used by Aboriginal people. Old history books say that the areas traversed by explorers and the OTL were 'unexplored' or 'empty', however, the work of the OTL encroached on unceded Aboriginal land and significantly disrupted many Aboriginal societies.
The OTL from Port Augusta to Palmerston (Port Darwin) was connected to an undersea cable from Asia, on 22 August 1872. As it happened, the undersea cable broke down delaying the first telegram message between Adelaide and London, which was finally transmitted on 22 October 1872. At last, news, and other messages could then be transmitted in hours, rather than waiting weeks for ships to arrive with information from across the world.
Messages sent over telegraph lines used Morse code, which was developed in 1835 by American artist and inventor Samuel Morse (1791-1872). In modern coding language, we would describe Morse code as a method of encoding every letter in the Latin/English/Western alphabet, plus numbers and punctuation, as two pieces of data – a dot and a dash, or short and long signals. Morse code messages can be sent using light, sound or electrical pulses. It was favoured for telegraphy use as it was easy to learn and fast over long distances. It is still used today in aviation and aeronautical fields for these same reasons.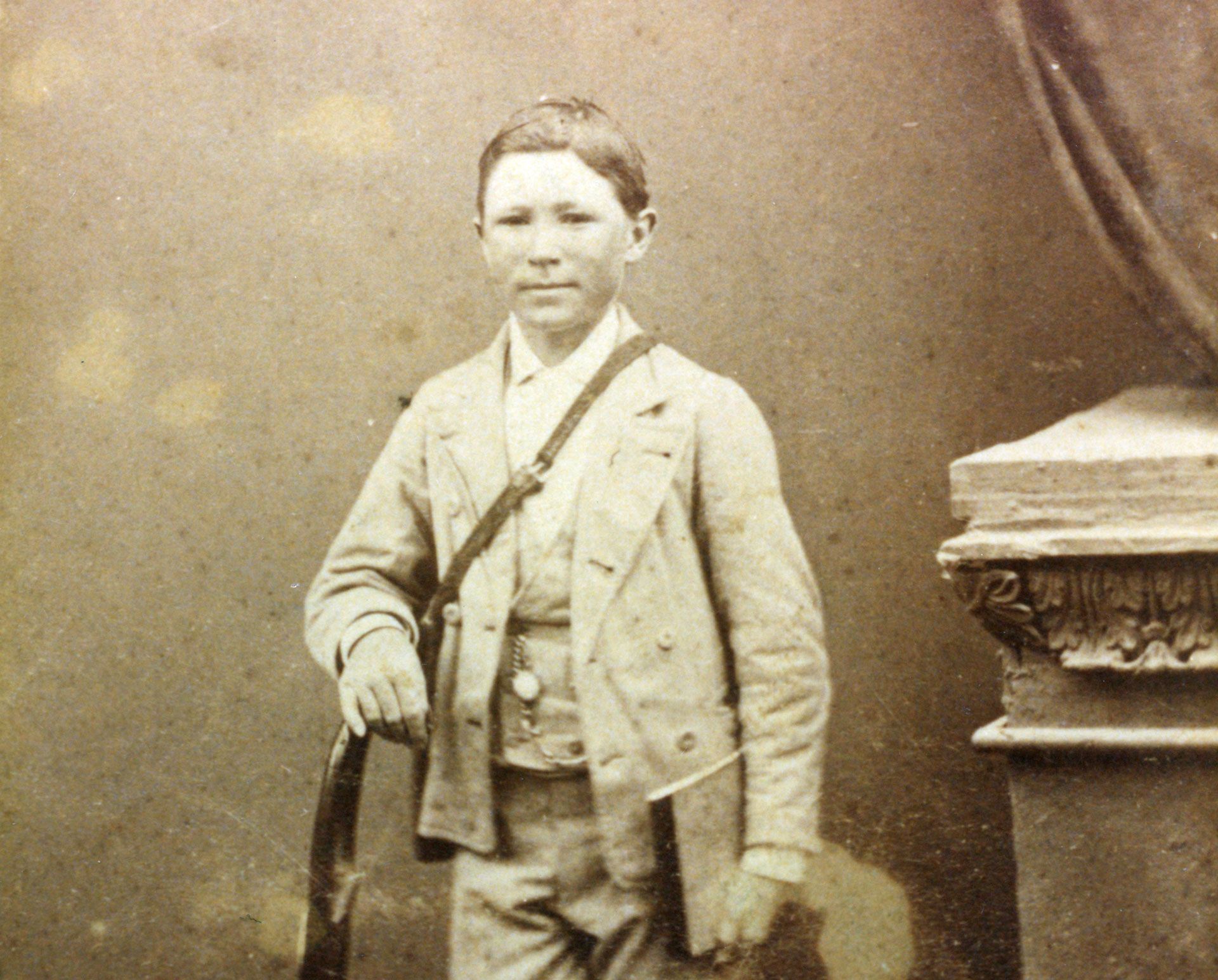 Who delivered all the telegrams? It was kids!
Following the connection of the OTL to the world's telegraphy system, many thousands of telegrams were sent and received every year in Australia. Up to 37 million telegrams were despatched and received in Australia each year by the time this technology reached its peak in the mid-1940s.
Everyday Australians didn't have telegraphy equipment in their homes, so messages were transmitted through post office/telegraph stations based in the growing cities and towns throughout the country.
When received, they were written up into telegrams which needed to be delivered to the homes and businesses of the intended recipient. Telegrams were expensive, so the delivery labour needed to be cheap.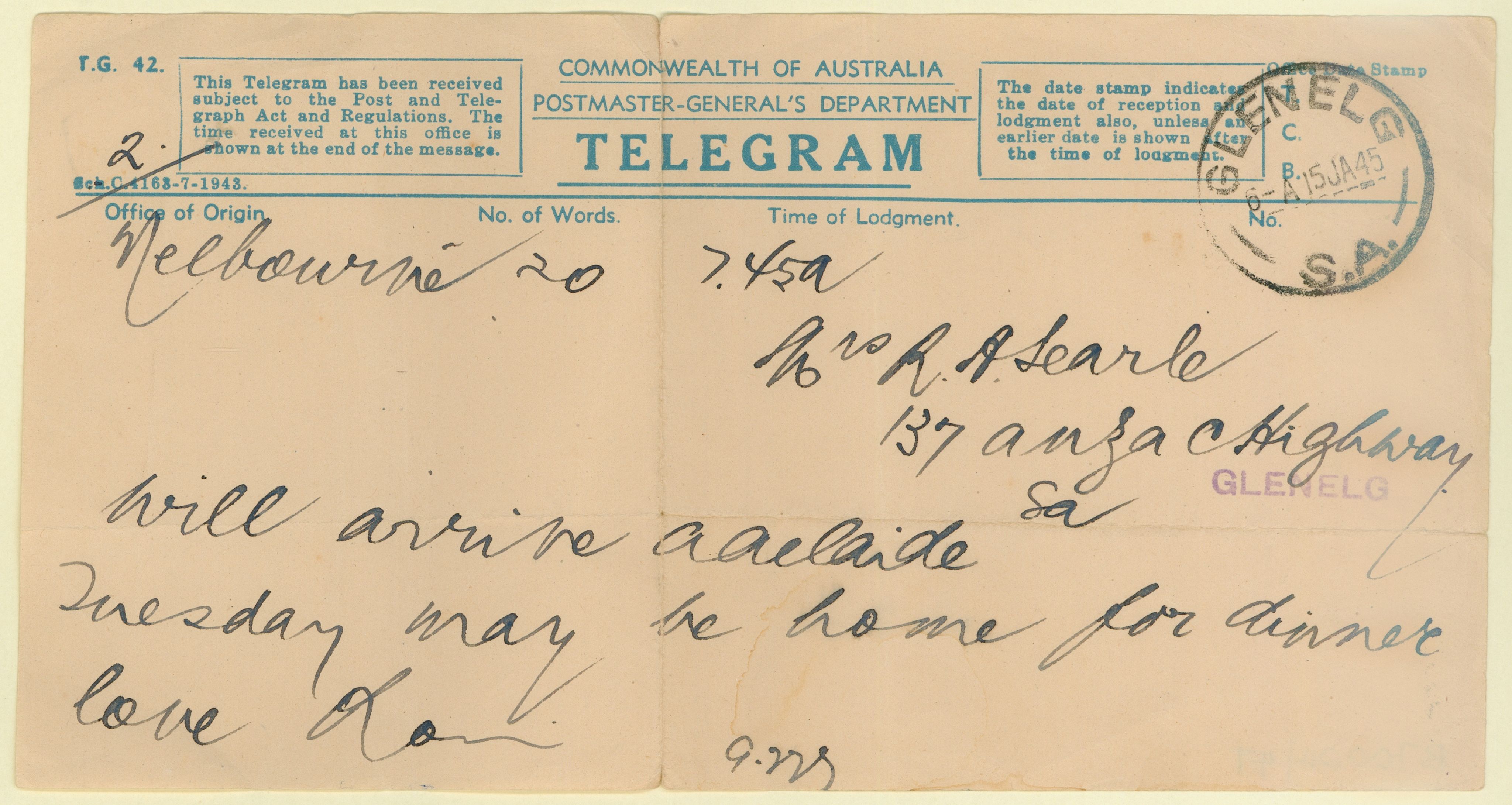 People are surprised to learn that children, mostly boys, were employed to deliver these millions of telegrams. At any time between the late 1870s and the 1950s, it was normal to see a young boy in an official uniform, with a regulation-issue leather satchel, on the vital business of telegram delivery. Bike messaging had previously been the domain of girls in English-speaking countries (more on this later), but the field of telegraphy messaging was mostly dominated by men and boys.
The usual starting age was 12-14, as school finished at age 13, though boys as young as eight were recruited. It was expected that boys would work to support their families during hard times, especially if their mothers were widowed. Telegram boys needed to be medically fit, able to read the addresses for the deliveries, have a knowledge of basic maths, and be of 'sober habits and good character'.
However, a massive culture grew up around telegram boys, who were depicted in media as cheeky, tobacco-smoking, street-smart waifs frantically competing to deliver messages on foot, horseback or bike. They saw it all and knew it all. Frank McCourt, famed author of Angela's Ashes, worked as a telegram boy in Ireland. He said it best:
Nobody knows Limerick like the telegram boy. We know every avenue, road, street, terrace, mews, place, close, lane. Jaysus… there isn't a door in Limerick we don't know...You never know what's going to happen when you hand people their telegrams. They laugh and sing and dance and cry and scream and fall down in a weakness and you wonder if they'll wake up at all and give you the tip.
During their downtime telegram boys congregated, often in the basement of telegraph offices, to smoke, gamble and read 'penny dreadfuls' which were cheap, sensational fiction aimed at young men. This was all frowned upon even then, but that's just the way it was. If the boys weren't happy and went on strike, they could bring an entire city to a standstill.
By today's standards, telegram boys were exploited, as they worked 12 hours a day or more, and accidents were common, especially with cars. Worse still, some boys found themselves offering more nefarious services around town, and the term 'telegram boy' or 'messenger boy' became associated with male prostitution. The smart ones avoided gambling, saved their money, and relished their freedom. Work as a telegram boy finished at age 17, and some then went on to work in the post/telegraph offices.
During wars involving Australian combatants, people had a horror of seeing a telegram boy coming up their street.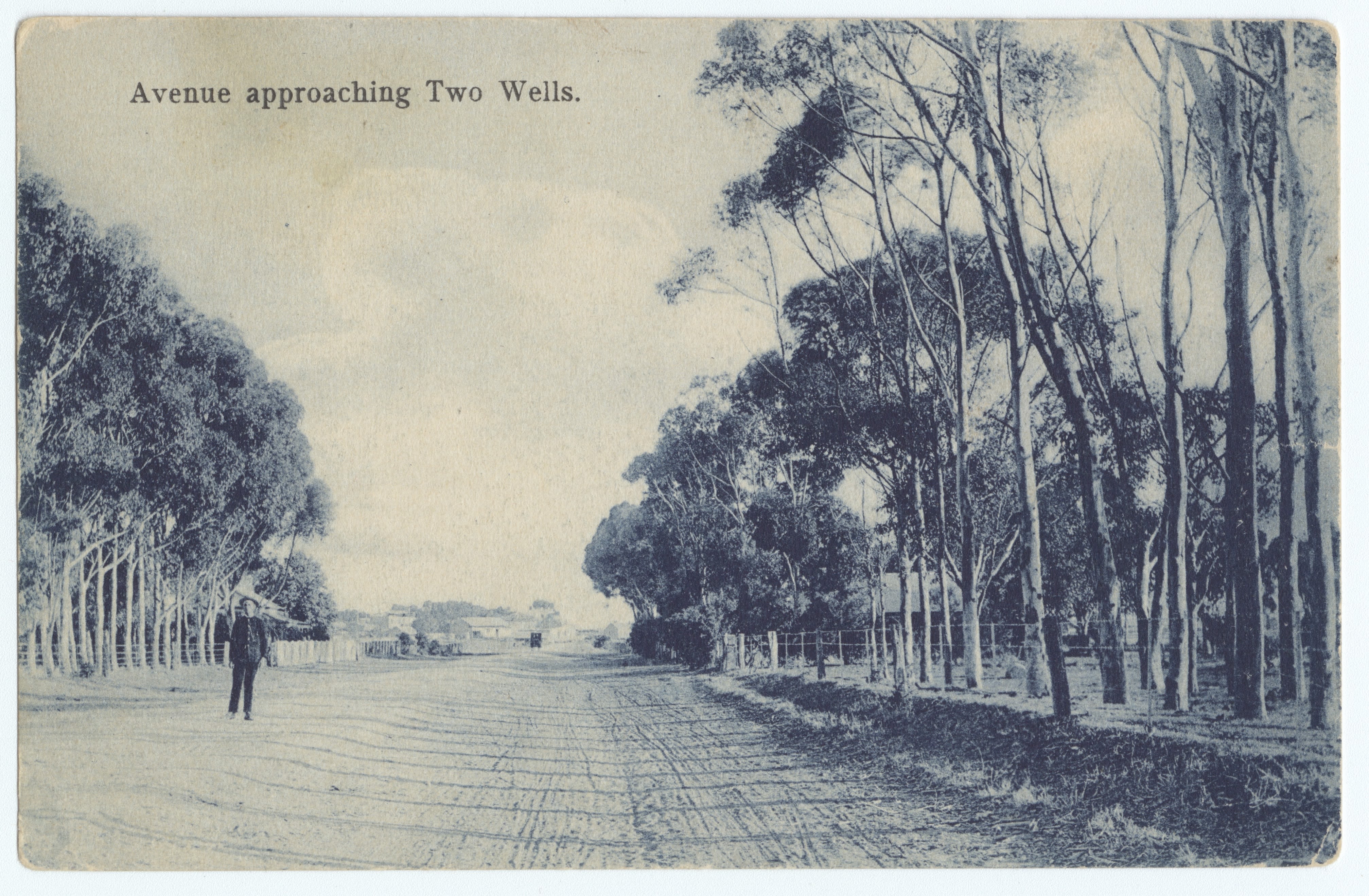 A telegram would be pink, or specially marked with two stars on the envelope, if it told of a death. The boys were told they 'didn't have to wait' with the upset recipient, even though they normally would wait in case there was a reply. Some did wait though, especially the women and girl messengers.
Before telegraphy was invented, the delivery of messages was the realm of girls, who were paid to deliver messages and gifts around cities and towns, to grocers, relatives and friends of households, but girls were mostly excluded from telegram delivery.
When male labour became short during the Second World War, especially in regional areas, more 'girl messengers' were taken on to deliver telegrams. There was a condition though - young ladies were to understand that their employment was regarded as only a 'temporary expediency' until more boys became available. Nevertheless, girls continued to be employed as telegram messengers from 1942 until the mid 1970s.
The girl messengers liked the work for the notoriety, freedom, decent pay, social life, and the fact it was better for their health than factory work. They took the responsibility seriously, knowing that people paid for every word.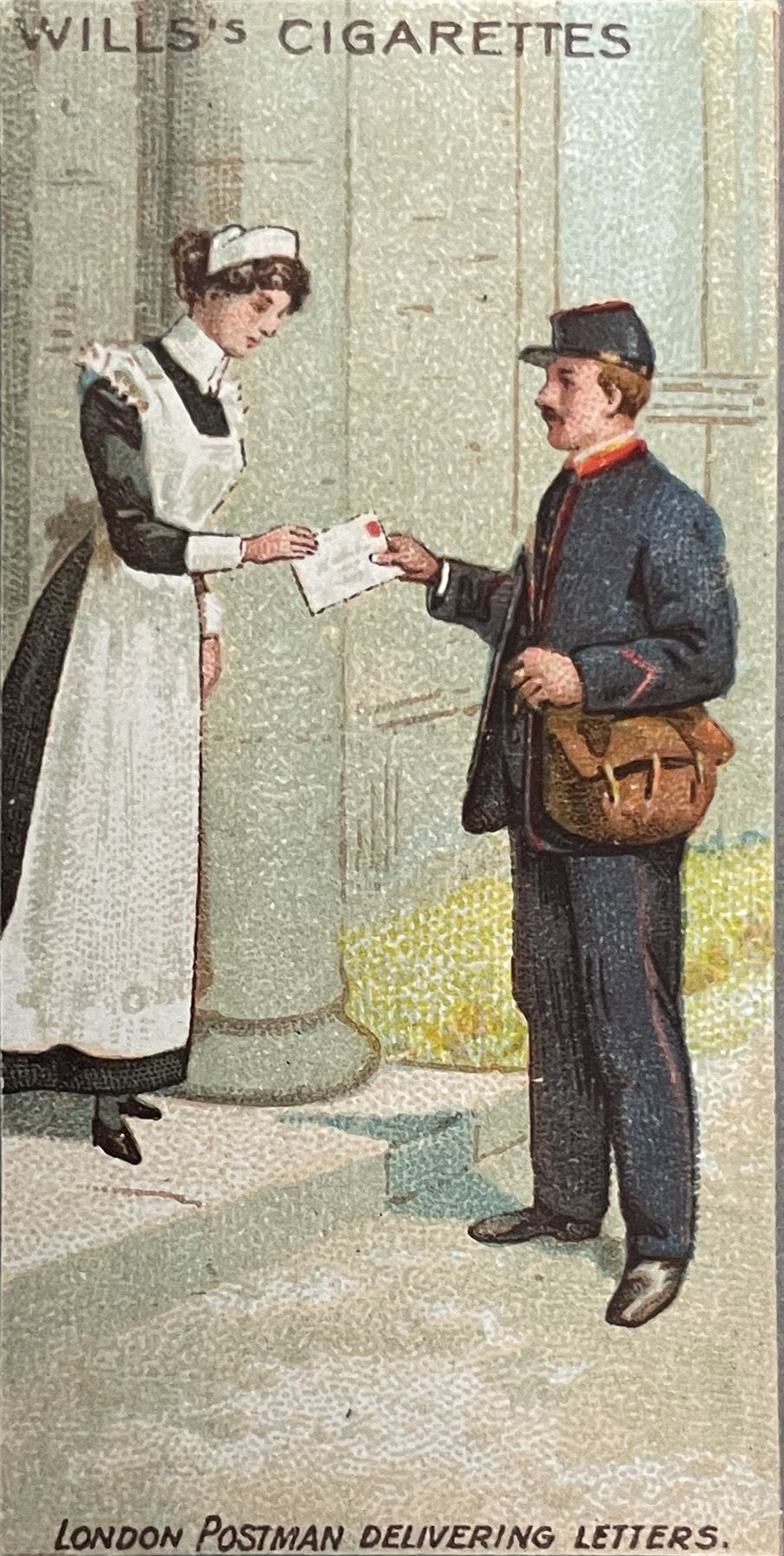 Album of cigarette cards from Wills and Capstan cigarettes, Bristol, Sydney, W.D. & H.O. Wills, ca. 1910-11? SLSA: CLRC, Scrapbk C571
Album of cigarette cards from Wills and Capstan cigarettes, Bristol, Sydney, W.D. & H.O. Wills, ca. 1910-11? SLSA: CLRC, Scrapbk C571
Cigarette Cards
Telegram boys loved to buy, swap, and sell decorative cigarette cards as collectables and they also featured as an occupation on the cards
The trouble was that the adults they knew were not smoking cigarettes quickly enough to maintain the supply of cards.
Because cigarettes were so cheap, kids started buying the packs for themselves so they could access the cards.
The Pony Express
The construction of the OTL fell behind schedule, mostly because of monsoonal conditions in the Northern Territory. As the dry season settled in early May 1872 work resumed at a furious pace. When the gap in the Line between the north (Daly Waters) and south points (Tennant Creek) reached about 420 kms, a 'pony express' was developed with a private contractor who happened to be passing near Barrow Creek, with 40 good horses. Men rode horses in relays between the two stations, carrying the telegraph messages. The distance was completed in 5 or 6 days. In this way a telegram could be sent from London to Adelaide in 9 or 10 days – much shorter than the 14 weeks it would take by ship.
The environment
When the OTL was constructed, the environment was seen as something that had to be battled and controlled.
The route of the OTL was chosen for its plentiful trees, which were then duly cut down to make the poles. Any bushes in the way, or which may have damaged the Line, were also cleared. This damaged the ecosystem and tree numbers have never recovered.
Natural elements caused the main faults to the telegraph line's operation. Termites ate the wooden poles, even before they had been installed. Spider webs, wasp nests, lightning strike, shocked frogs, tree litter and dead branches blown on to the line all caused the connections to fail.
'A large bullock bell was tolled…'
Seventeen-year-old OTL construction worker William Crowder wrote this solemn diary note at Roper River after the burial of his friend, 23-year-old Daniel Cavanagh who died on 5 March 1872 of a 'very bad fever' (probably Malaria).
Given the remote location, Daniel's body could not be returned to his family in NSW, and he was buried 'on the Line'. Crowder and another man, Mason, made the coffin 'which was got up very nicely'. Burials were by necessity swift, and care was taken to honour the person with respect and ceremony, and to mark the grave out properly with an inscription and railings. These are some of the 'lonely graves' you might see when travelling in the outback.
Children's wartime communication
Telegrams were expensive to send so this service was mainly used by business and government departments. Only the most urgent of private messages were sent by telegram, and it was usually bad news.
During the Second World War British evacuee children harboured in Australia were able to send one telegram free of charge each month, to their families back in the UK, and receive one 'in the reverse direction' as well.

One message to family per month seems astonishing to us now, given the immediacy of international digital communication.
What is a repeater station?
As the electrical signal could only go so far, the Overland Telegraph Line required the building and maintaining of 11 repeater stations along the route. The stations were built between 200 and 290 kilometres apart and were fully fitted out with telegraphy equipment. The telegraphy operators employed at the repeater stations received the Morse code messages from the previous station, and retransmitted them further along the line, to the next station and so on.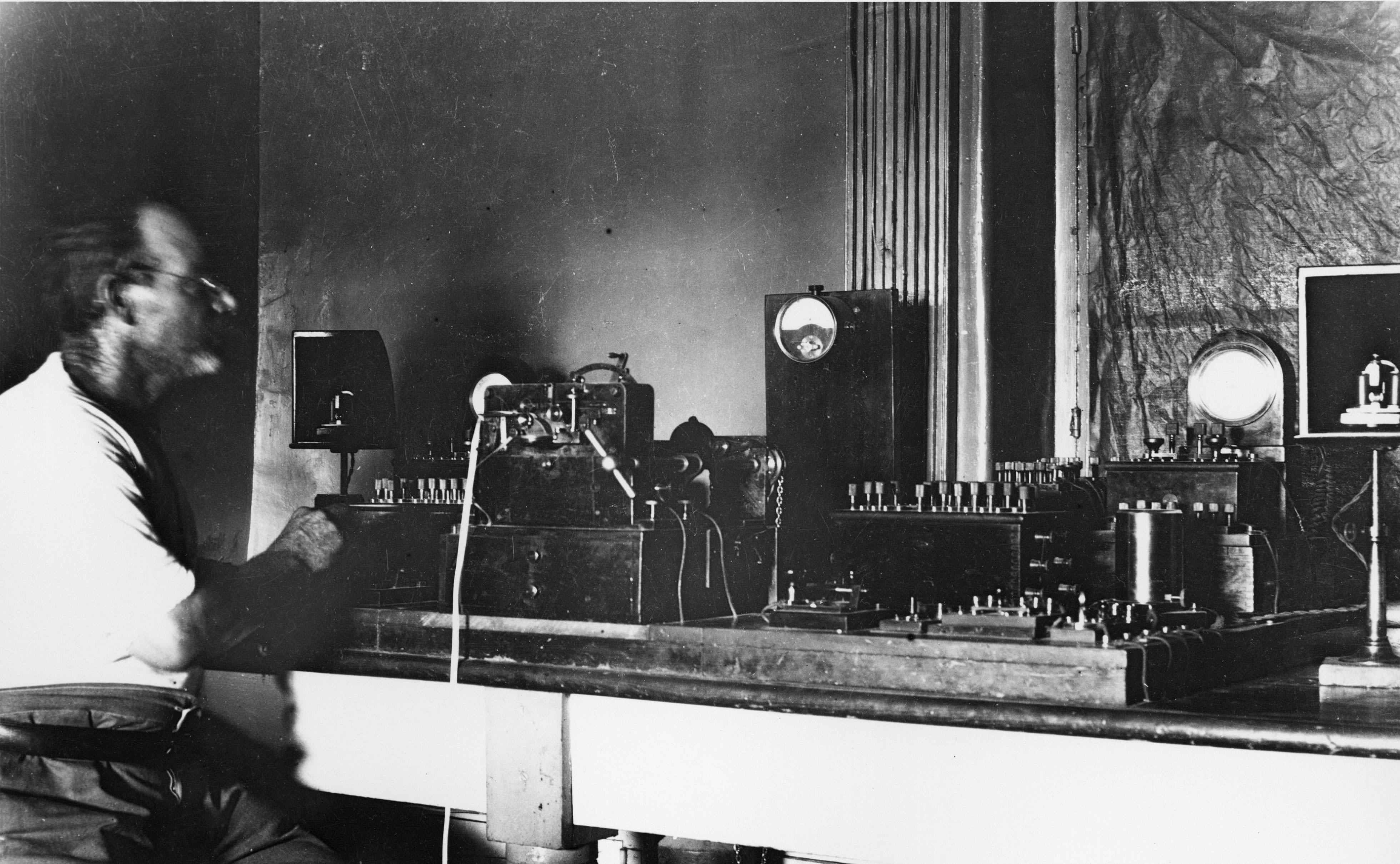 Staff at these stations were also responsible for the maintenance of the Line itself in their section. Remote repeater stations were a blessing for travellers, and most became small service towns over time.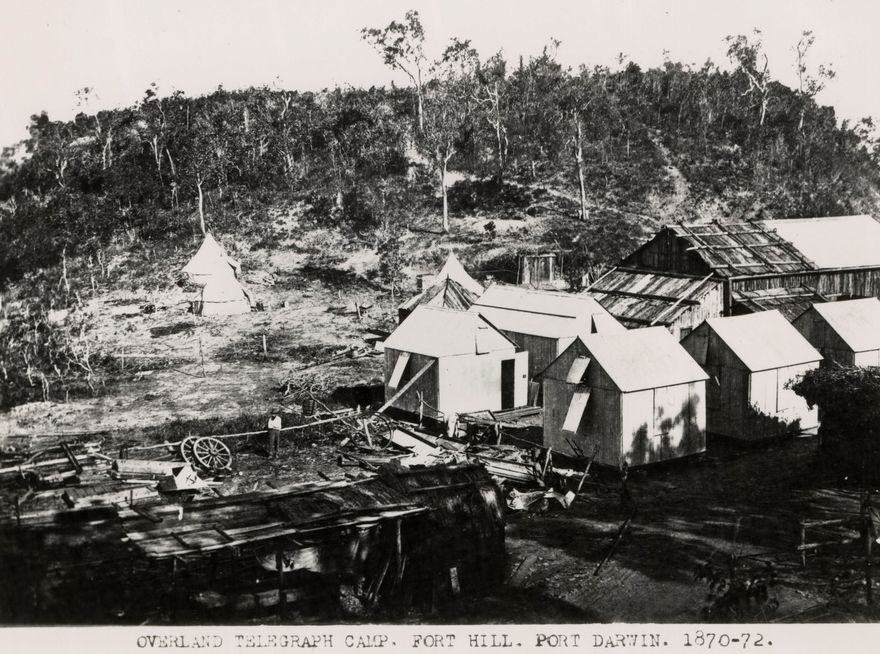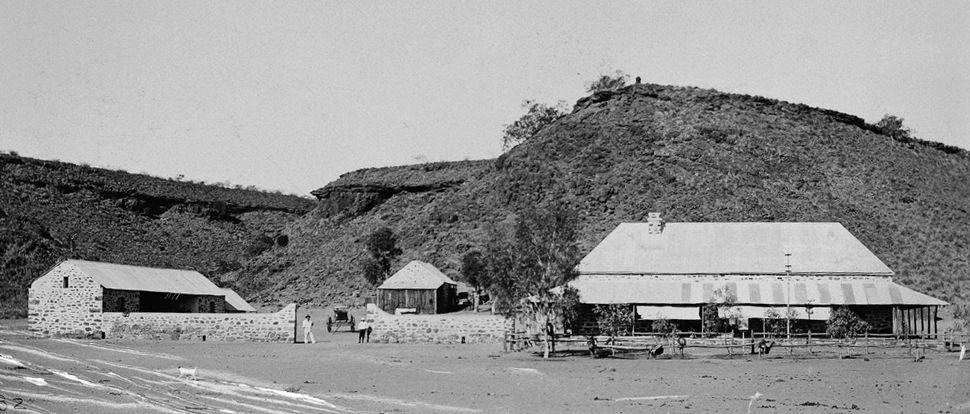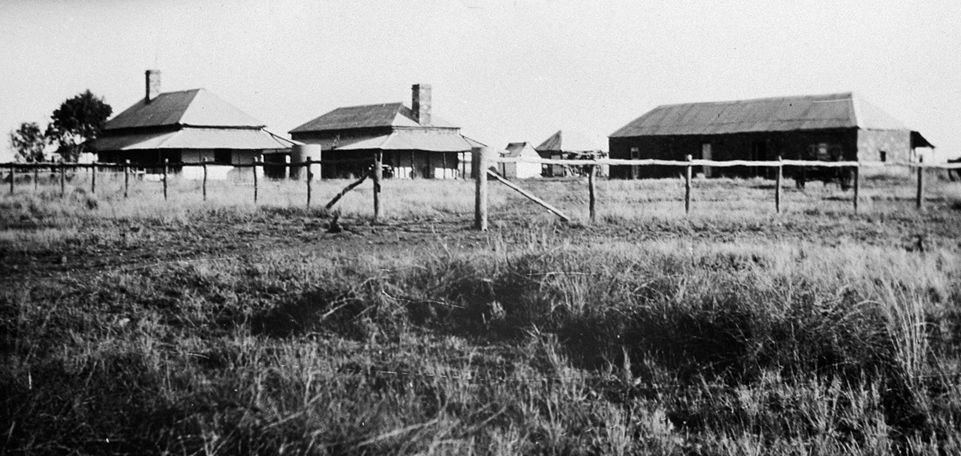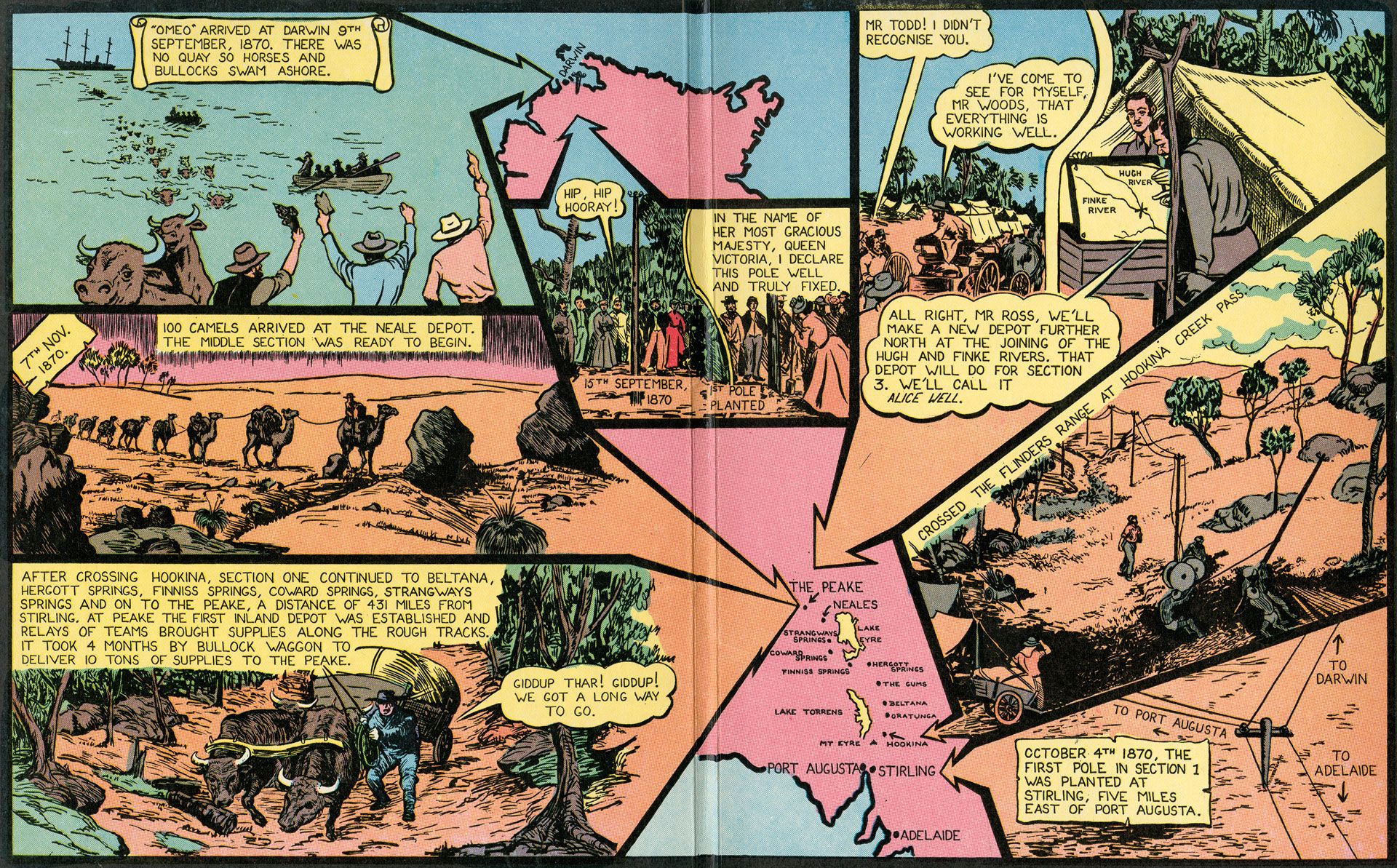 The OTL influenced language, learning and literature.
The importance of the OTL was reflected in educational books, popular culture and magazine articles written for Australian children.
From Stuart to the Overland Telegraph is a Pictorial Social Studies book first published in 1956. The book is in graphic novel format and features a large colour fold-out map at the beginning of the story, illustrating how the construction of the OTL got underway in 1870.
Another example of an OTL children's book is The Singing Wire (1973) published just after the 1972 centenary of the OTL connection. It is a beautifully written and illustrated account of the OTL and the title comes from the term used by Aboriginal people to describe the singing sound made by the OTL. Despite this, the preface supports the colonial idea that little of any use was there before the OTL.
This single line was strung across nearly two thousand miles of unexplored and inhospitable country about which very little was known other than the fact that there was plenty of desert and very little water...
Learning materials, such as encyclopaedias, contained entries on the OTL and the details of telegraphy, with diagrams and sketches explaining how the messages got from one end to the other.
Educational materials produced during the White Australia era reinforced the colonial viewpoint that nothing much existed in central Australia before the OTL, and what came after was in spite of an inhospitable environment. School textbooks and readers, which were the responsibility of government workers in each of the states, included grand statements about brave explorers travelling in, and surveying, unknown areas to prepare for the OTL, and suggesting that, if not for them, central Australia would be empty. The explorers were brave and took great risks, but Stuart particularly was a private surveyor, and success meant he would receive shiny coins. So, whatever was in the way was a nuisance that had to be ridden over.
Children were also taught that First Nations people were either strangely disinterested in the construction of the OTL or that they were simply curious and stole OTL components from the supplies. Children also read that any issues were all smoothed over by the 'wonderful Mr Charles Todd' (page 59 of The School Magazine shown below-right). In fact Aboriginal people did resist on account of being marginalised from their own country: their important sites over-run, resources pilfered and landscape scarred. This dismissive attitude continued in Australian school books until a national curriculum was introduced in 2013, which stipulated that Aboriginal and Torres Strait Islander people be represented in educational materials, and their experiences of 'development' be acknowledged.
Children used their own written expression to repeat the legend of the OTL. They entered their writings in newspaper competitions, in which they swooned over their favourite OTL explorer-heroes. In 1931, May Salvano wrote to the Children's Page of The Southern Cross newspaper (Adelaide) with her essay entitled 'My favorite Character in Australian History and Why', about John McDouall Stuart's expeditions:
School students were asked to answer questions on the OTL during tests. The best essays, presumably those which reflected the textbooks and the teacher's instructions, were published in newspapers. The essay below was based on the topic 'We of the Never-Never', the student using the OTL as an example of 'Never-Never'.
But there was more. Children were also read poems about Stuart's endeavours, and the legendary people and places of the OTL. Some focused on the nationalistic nature of the work, some were about the hardship endured and the desolation of abandoned settlements.
For leisure, children could read about young protagonists who used Morse code for their spying and other play activities. In the tween fiction book Target Island (1956, 1967), Morse code messages were 'flashing to and fro' as Matty, Nigel and Richard prepared for a dangerous 'run away from home' sailing adventure to America. They had connected a wire between their rooms, to communicate securely without pesky adults listening in.
Morse code was also taught in schools for many years and this escalated during the paranoia of Cold War era. But when children started to blink in Morse code to each other during tests, educators stopped teaching the code. Kids have also used torches to signal Morse code messages to one another at night.
Boy and girl Scout groups required competency in Morse code as part of merit achievements. Badges were awarded for proficiency in the code and participants could advance to the next level or rank. This is reflective of the original ethos of Scouts, which was to prepare young people for war.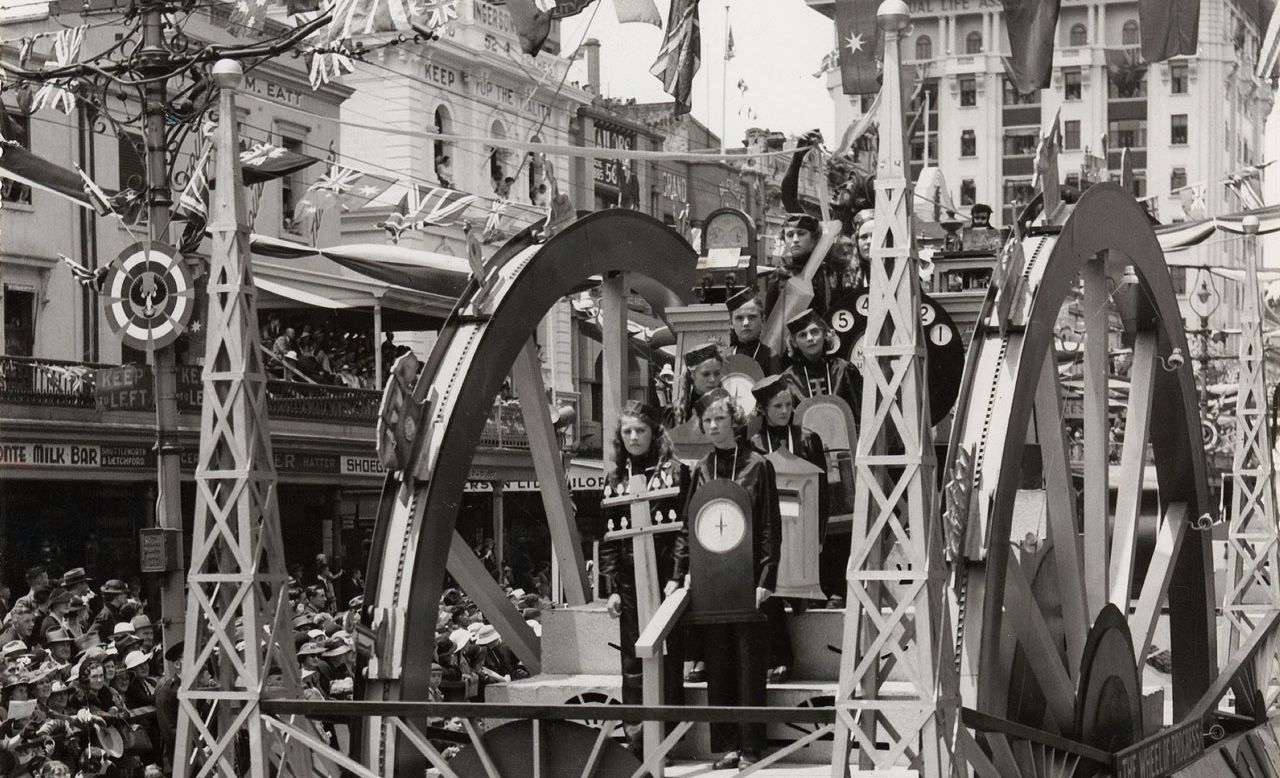 Just tappin' out some code!
Everyone loves to dress up for a party or parade, especially kids. What better than a costume of electromagnetic communications machinery?
The South Australian centenary celebrations in 1936 placed a great deal of emphasis on empire and progress. The ability to communicate worldwide using telegraphy was a South Australian success story and was represented in the Pageant of Progress by this Post Office tableau float, featuring children dressed in a telegraphy theme and other communication devices. Perhaps it wasn't the most glamourous of costumes, as the children in this photograph don't look particularly excited.
Art teacher, designer and fashion journalist Thelma Afford (1907 – 1996) designed this crackling representation of the OTL and Morse code for South Australian centenary theatre performances. The design was one of many costumes created for Heritage: A Pageant of South Australia, staged by eurhythmics practitioner Heather Gell and delivered by her eager young students over ten nights at the Tivoli Theatre, from Wednesday 23 September 1936.
The costume represented the first telegraphic message from Adelaide to London, sent on 22 October 1872. Ms Dorothy Slane was the performance model and had to tap dance out the Morse code message, and the reply. In preparation, Dorothy visited the Adelaide telegraph office to learn the message and the sound of the code. The News newspaper wrote of the pageant dress rehearsal:
Telegraph Interlude
The completion of telegraphic communication between Australia and England is an interesting interlude, in which the transmission of messages is visualised. Miss Dorothy Slane, in a striking costume, taps out the Morse code with nimble feet and flashing electric torches.
The head-dress alone is a feat of props engineering. There can't have been a stitch of silver ribbon left in Adelaide. We can only assume the costume was fraught to wear, given the look on Dorothy's face.
A telephone service was introduced in Australia in 1878 but as it was extremely expensive, the subscriber base was miniscule. Paper communication was still relied upon in to the 1960s. Nonetheless, here we have a studio portrait of Antonia Bircher, aged 10, dressed up as a telephone for a mayoral children's fancy dress ball in 1887.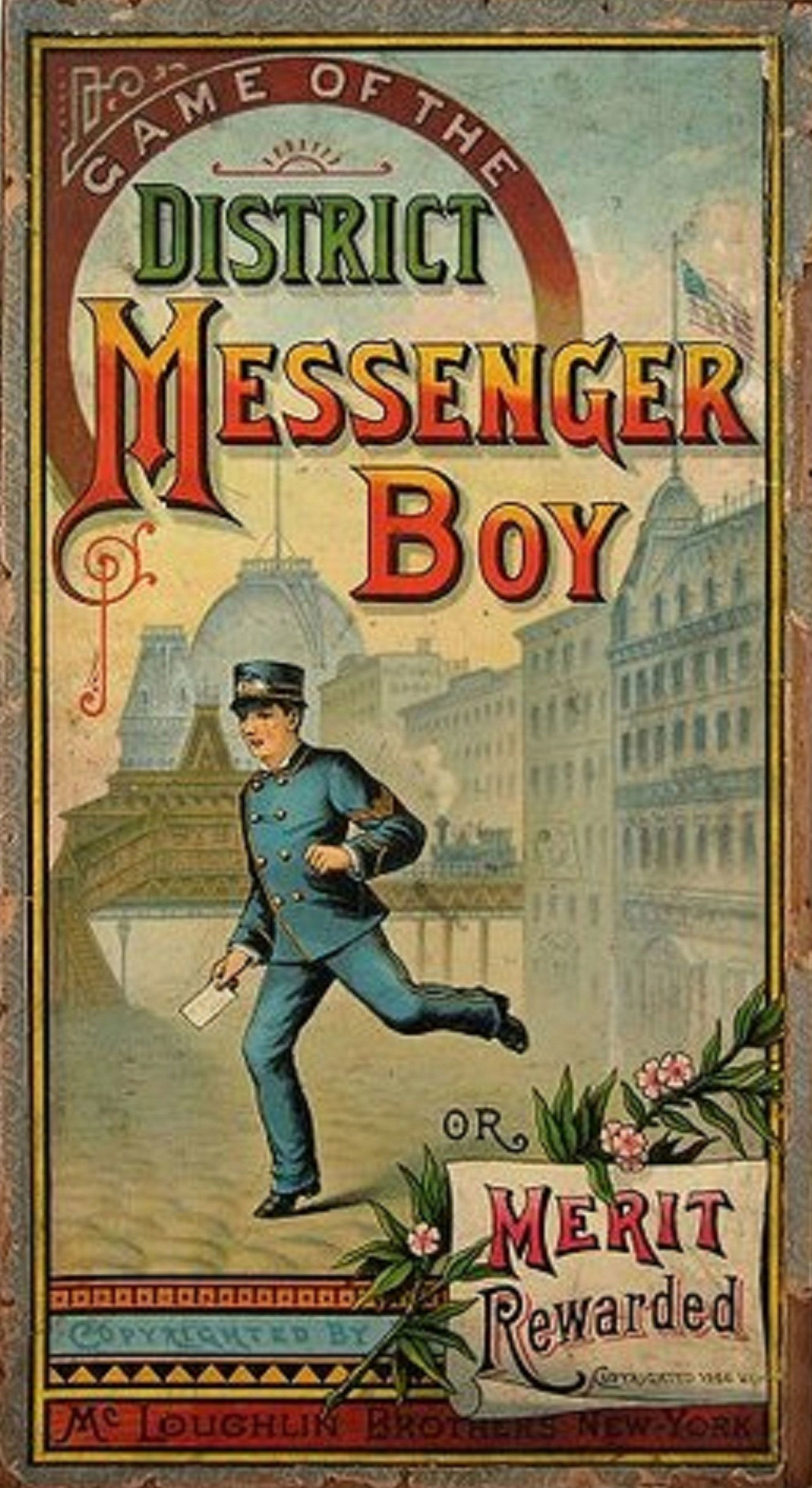 Kookaburra sits on the telegraph wire,
jumping up and down with his pants on fire…
The OLT became part of children's folklore, play, imaginings, bush knowledge and games.
Perhaps you remember this folkloric play-rhyme which Australian children adapted from the Old Gum Tree song, to suit the telegraphy era.
Play-rhymes are those which children create as a parody of existing rhymes, which they then teach to other children. Some are startlingly vulgar for folks of that size. The rhymes are then used in games, hand-clapping and other means of expression or general amusement.
As communications technology changed, so did this Kookaburra rhyme which children revised to 'telephone wire', or 'electric wire' as needed.
Tele-communications have long been the subject of elaborate play scenarios and games. Most kids have made a 'telephone' out of two tin cans and a piece of string. Now children can download apps to learn Morse code and send it to each other.
Kids have always been able to make their own telegraph sets with the right equipment, though toy manufacturers understood the marketing potential of telegraphy toys and created working Morse code sets for children.
Like dinosaurs and Egyptology, many kids go through a code-cracking phase. There is something about pretending to be a spy and creating secret messages that appeals to children. It is ultimately a role-playing activity, as adults have used code as a survival tactic since ancient times. Coding is also a fun way to quickly learn and use mathematical concepts, and to torture your friends and family in their failed attempts at breaking your code!

GAMES
The telegram boy was such a ubiquitous part of life that the American board game publishers, McLoughlin Brothers, created The Game of the District Messenger Boy (1886).
This is one of the first board games to suggest that materialism and capitalism are a means to a prosperous life. Prior to this, board games promoted Christian virtue as the path to a better life rather than what you owned and earned. The Messenger Boy game is quite like Snakes and Ladders, where if you played your cards (or teetotum) right, you could end up as the president of the Telegraph Company. Or in prison. Or both as might happen these days.
The game may look like just a fun way to pass a rainy afternoon, but it is a deliberate reinforcement of the telegram delivery 'gig economy' of the 19th century - an unregulated sector, with poor working conditions, all-night hours, few labour rights or legal protections and the possibility that the lifestyle could lead to long-term vice.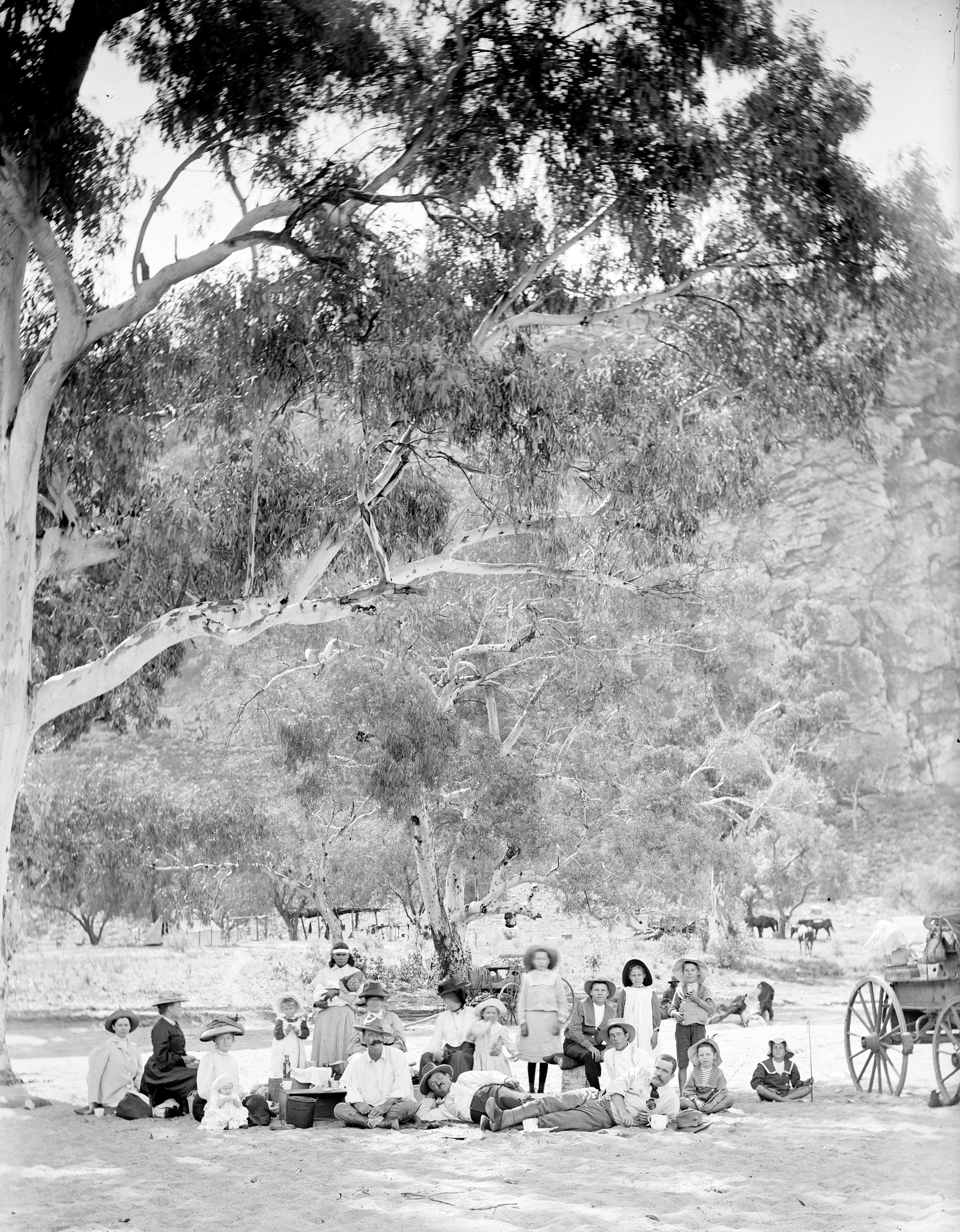 The children and families of the telegraph line.
Repeater stations needed to be constructed at intervals along the OTL to boost/relay the telegraphic signals on to the next station, and so on. As these stations grew into service towns, telegraph operators took their families outback, and their kids ran wild exploring their surrounds. Telegraph offices were also meeting places for children, as they were central, safe, and sheltered.
Alice Springs telegraph station was still part of South Australia when Thomas A Bradshaw took his family to live at the station, where he was the officer-in-charge from 1899 to 1908. Thomas took many photographs of the scenery and his happy and well-looking children. Using Thomas' diaries and her own memories, his daughter Doris (Blackwell Bradshaw) published an intriguing account of how life was for she and her siblings as children in Central Australia (Alice on the Line, 1965).
Dorothy described the childhood experiences of the telegraph station kids in vivid imagery: the big and small picnics, horse-riding, catching lizards, camping, exploring the caves and revelling in the rivers and creeks when it finally rained. They met explorers, scientists, and an odd assortment of eccentric travellers, and were easy with the 'Arunda' (Arrernte) Aboriginal folk on whose unceded country they lived.
The children attended traditional Aboriginal ceremonies by invitation, and the Aboriginal people mourned them bitterly when they left the area, particularly the children born on Country.
The Bradshaw kids sometimes got lost over the years, especially if walking at night after an event. Bush kids like the Bradshaw bunch knew that if you were lost, there were rudimentary wells along the OTL created during construction, and if you cut the Line a patrol would be out promptly to find the fault, and hopefully you. The lines were regularly patrolled by maintenance linesmen on horseback, and later by car, so if you stayed near the line your chances were good.
It was a taboo subject because of the enormous expense, but many of the wooden telegraph poles deteriorated quickly due to termites and weather conditions, some even before they were planted. The wooden poles were laboriously replaced with iron at a huge cost, which was a terrible embarrassment for the government. The original wooden poles were repurposed into distinctive children's play equipment. There seems to be no end to how the OTL and childhood intersected.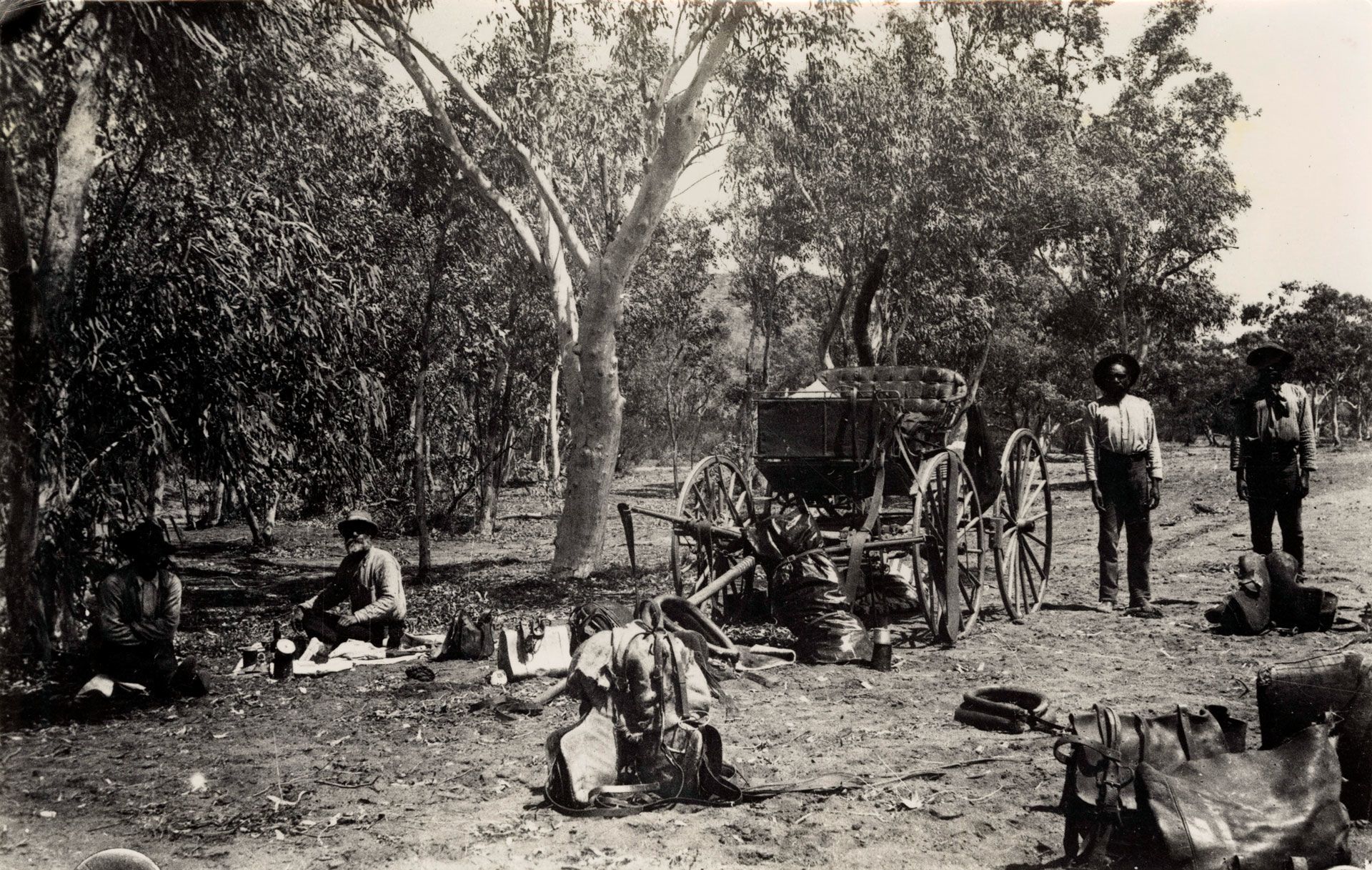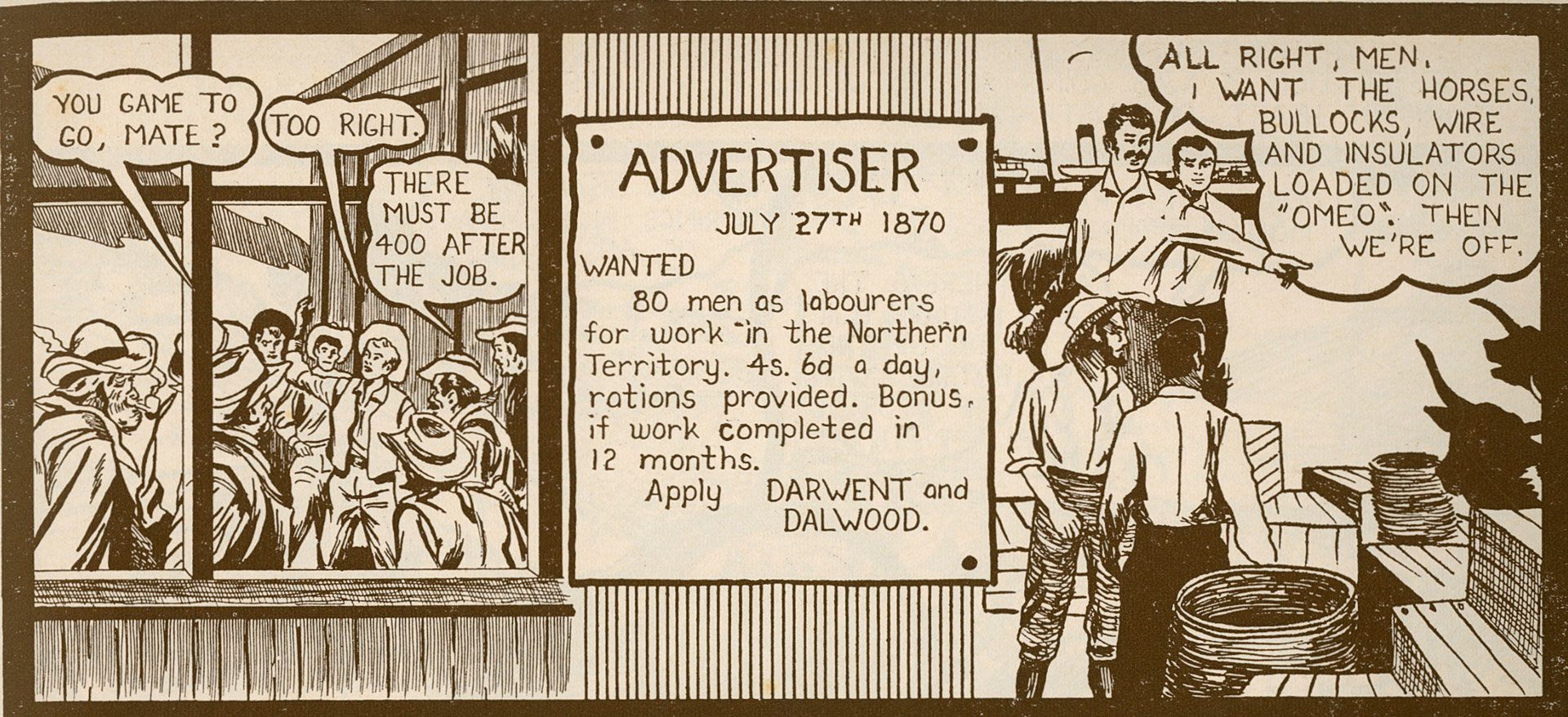 Item 1 of 1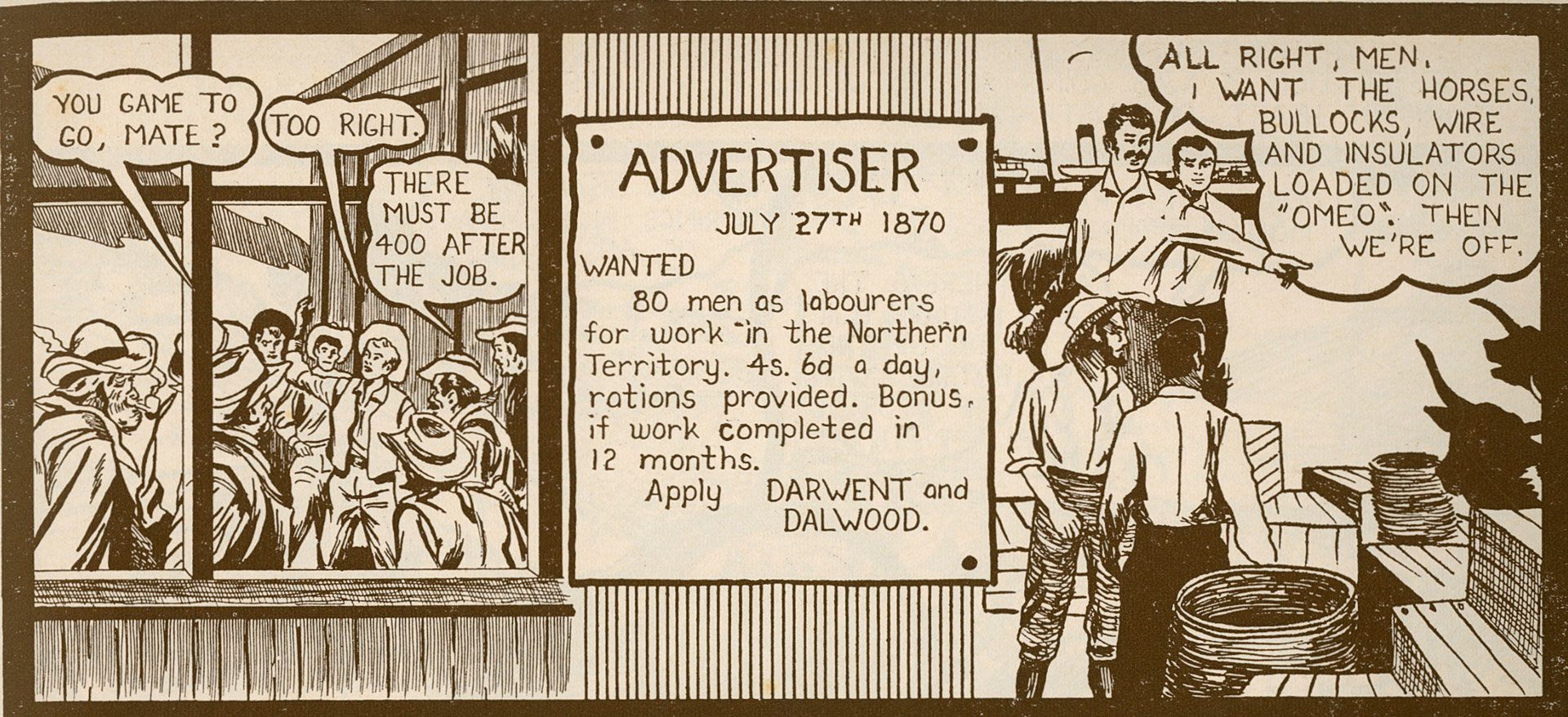 Fathers, brothers, sons...
The construction of the OTL had a very direct and lasting impact on some Australian children.
South Australian construction organisers were overwhelmed with applicants seeking to work on the OTL.
Their enthusiasm was probably driven by the decent pay and provisions they would be entitled to, along with the quality clothing and footwear they would be allocated.
The cartoon strip above is taken from the aforementioned graphic novel From Stuart to the Overland Telegraph, and depicts the throng that greeted the application office agents after the labouring positions were advertised.
Some of the workers were boys aged between 14 and 17 - children by today's standards. Many workers were fathers, who worked away from their families for two years or more, under conditions of privation in harsh country. They faced the extreme conditions of the wet season in the impenetrable Top End where they were exposed to malaria, and the desert conditions of the centre and northern South Australia. The food varied considerably, and often included dry salt beef jerky, which Alfred Giles, bushman and OTL overseer, likened to 'eating one's bootlaces for breakfast'.1
Though working away was common, children missed their fathers or barely knew them when they returned home. Some construction workers became invalids after suffering the ongoing effects of diseases like dysentery and scurvy, which led to a difficult life for their wives and children.
For some children, construction of the OTL was a significant trauma. Some men died on the Line, from disease, and some perished after becoming lost in the bush. Family men left behind vulnerable families, who received the unfortunate news by telegram.
The telegraphy community looked after their own and 'subscriptions' (monetary gifts) were openly sought to help the widows and children of the men who died. Those working on the OTL, and people in the cities and towns, gave generously to the funds, and gang workers paid 'fanciful' amounts to buy the property of the deceased fellow.2
Background image: Campsite of an Overland Telegraph Line survey party, showing workers resting next to a wagon, 1891. SLSA B 78438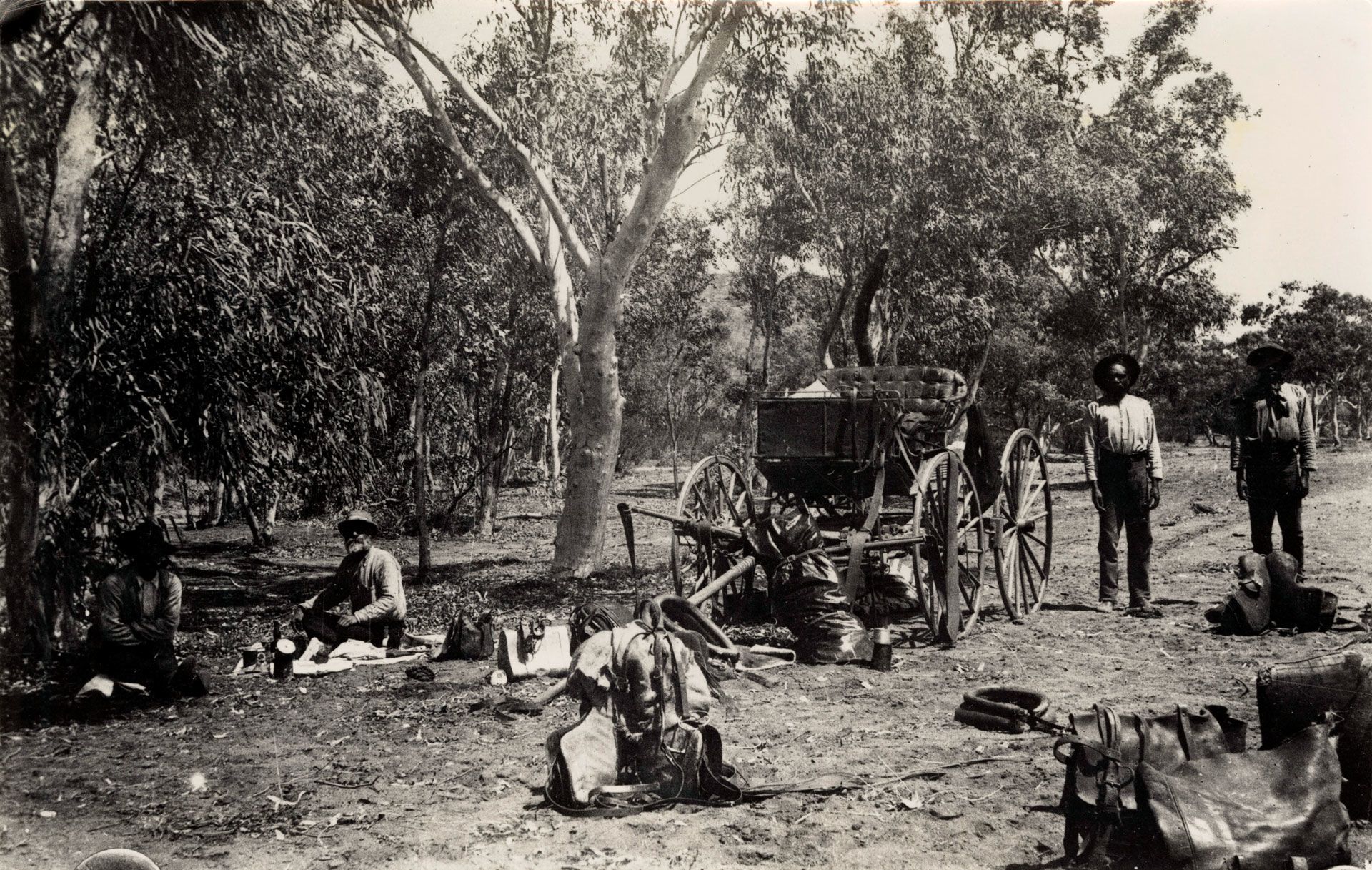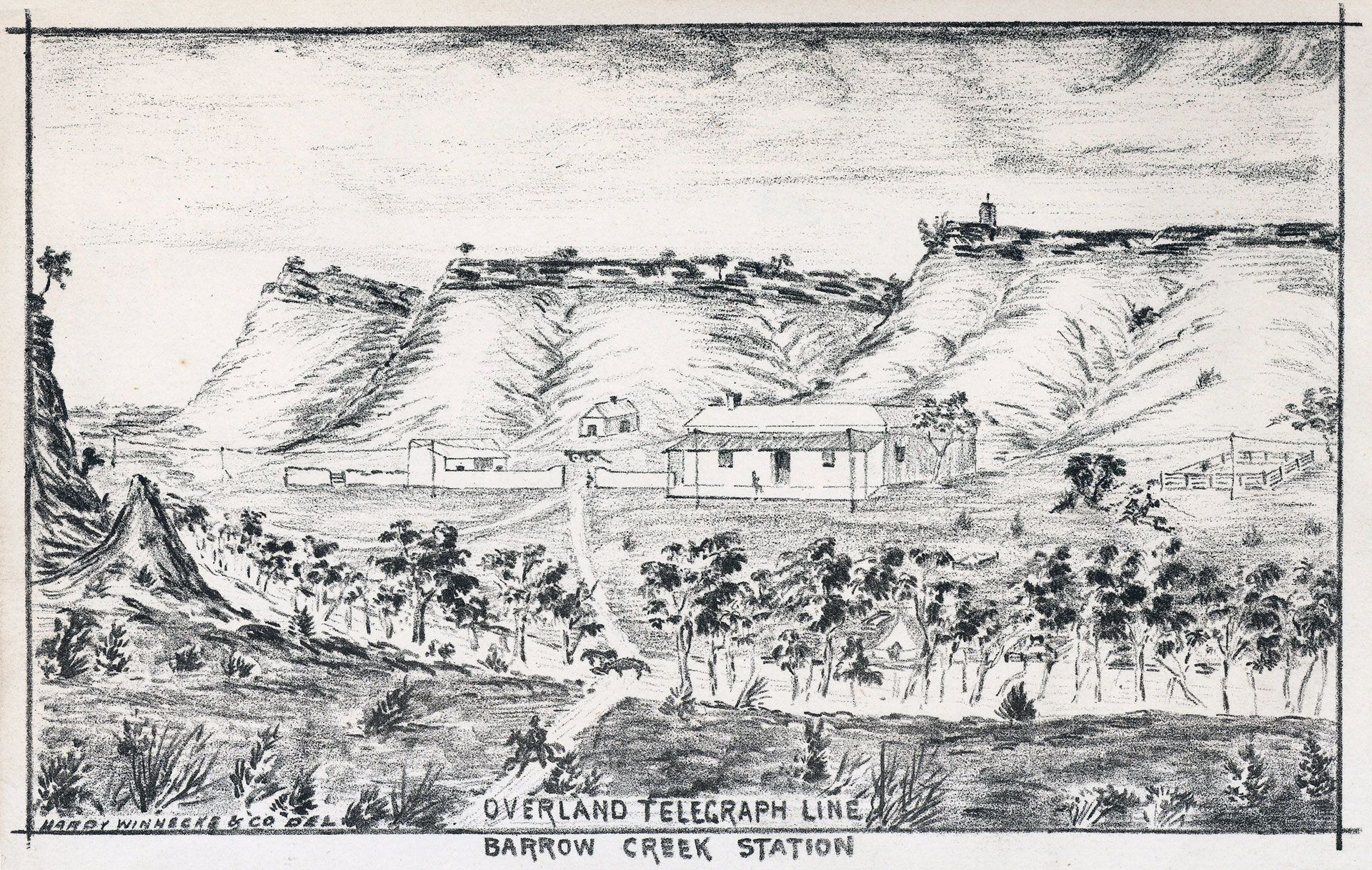 The last message dictated over the line.
James Stapleton migrated to Australia from Canada, in 1859. A married man with four children, he worked as the Stationmaster at Barrow Creek telegraph station, the next repeater station north of Alice Springs, from 1873.
Men who worked remotely at that time believed it safer to leave their families back in the larger centres. Stapleton's wife Emily (nee Ekers), and their children Percival, Lionel, Francis and Constance (all aged under 9), lived in North Adelaide whilst James was away.
On 22 February 1874, a dispute arose between the Barrow Creek station employees and nearby First Nations Kaiditj (Kaytetye) men. Accounts vary widely but it is believed the station men threatened the nearby water supplies by allowing their horses to drink all the water. We know from Stuart's exploration diaries that horses trampled, fouled and drank too much of the water sources Aboriginal people relied upon, so they began refusing to reveal the location of waterholes. Another record states that Stapleton had fired his gun near and toward Aboriginal people who tried to take extra flour rations at night (Abbott Family Papers, PRG 1648/4). Whatever happened, the Station employees had transgressed and the First Nations men had a cultural responsibility to take action.
Whilst all the Barrow Creek employees were sat outside in the late dusk, the Aboriginal men approached from a gully. Stapleton and his assistant linesman John Franks were speared, as was Stapleton's assistant Edward Flint and a young Aboriginal boy assistant called 'Jemmy'. Franks succumbed straight away, and Stapleton was mortally wounded. Frantic telegraph messages flashed up and down the Line.
In Adelaide Dr William Gosse advised treatment for the wounded which was telegraphed back to Barrow Creek. There was ghoulish media interest in this case, as Charles Todd had sent his carriage for Stapleton's distressed wife who was brought to the city telegraph station to receive his last message, and then news that he had died in the late afternoon on February 23.
In another twist, Stapleton had been denied permission for leave to visit his family in June 1873 and wrote to Emily lamenting that he would not see them (SLSA: PRG 643/4).

The telegraphy folk stepped up at the behest of Charles Todd, and a sizable subscription to care for the Stapleton family was raised. Stapleton's children all lived to very old age, but not so his widow, who remarried in 1877 to William Rhodes, and died in 1881, aged 40, a week after birthing a stillborn girl.
The Barrow Creek conflict was reported as a scandalous offence to white people, at a time when the complexities of cross-cultural frontiers had no bearing on the colonial outlook. 'Jemmy' the Aboriginal boy assistant is reported to have died from spear wounds, but the graveside memorial to those killed at the station does not mention him. The official archive is evasive about reprisals, though non-official accounts say up to 50 Aboriginal men, women, and children, or more, died as a consequence of indiscriminate retaliatory killings in the months that followed. The reprisals were sanctioned by Mounted Constable Samuel Gason of Barrow Creek station.
The OTL and subsequent works had another impact upon Aboriginal children. With the development of transcultural townships around repeater stations, relationships developed between settlers of European descent, Afghan cameleer communities and First Nations people. Children born as a result of these relationships, and their descendants, were removed from their families under Government 'protectionist' assimilation policies which precipitated the intergenerational trauma of the Stolen Generations. This subject is covered in the online publication, The Overland Telegraph Line A Transcultural History, which highlights the many consequences of the Line's path through Aboriginal Country.
Sadly, for some Australian children, particularly First Nations children, the impact of the construction of the Overland Telegraph Line and the aftermath, was dire.
Wherever there is history, there are children, usually under the command of the adult world, which did not seek to record their voice.
As we reflect on this defining time in Australia's history, unique sources in the archive provide us with an opportunity to ponder the place and voice of the child, as observer, mimic, student, servant, labourer, standard-bearer, orphan, and casualty of the Overland Telegraph.
Researched and written by Denise Chapman - Curator, Engagement, State Library of South Australia
Explore more
There are many resources for the general history of the Overland Telegraph Line (OTL) which you can access at the State Library of South Australia and online.
An overview of State Library sources can be viewed on the Overland Telegraph Line research guide.
The National Museum of Australia has created the Defining Moments - Overland Telegraph Line website, which provides an excellent short general history.
Want to know more about Morse?
This article by Richard Venus of OT150.net provides all the technical details you could ever wish for about telegraphy How did the telegraph work? Used with his kind permission.
Footnotes
1Exploring in the Seventies (1926) by explorer, bushman, and forward scout for the OTL, Alfred Giles, upon eating cooked (burnt) beef jerky for breakfast
2Private diaries of R.C. Patterson, 27 January - 3 June, 1872. Entry for 10 April 1872, SLSA:D 8103/2/103. Daily activities of the Overland Telegraph construction team, 1871- 1872. Read online.
General references
The Australian Junior Encyclopaedia / editor: Charles Barrett ; assistant ed: Brian W. Harris; introduction by Walter Murdoch, Melbourne, Vic., Georgian House, 1951
Blackwell (Bradshaw), Doris, Alice on the line, Adelaide, Rigby, [1965], 1972 reprint. SLSA: 994.29 B632 (Z)
The Australian Women's Mirror, The Bulletin Newspaper, Sydney, 12 September 1951
Campbell, Craig, A history of Australian schooling, and Helen Proctor, Crows Nest, N.S.W., Allen & Unwin, 2014
Diary of W.A. Crowder. SLSA: D 8065/1 Member of the Overland Telegraph Line construction party. Read online as a manuscript or transcript.
Journals of John McDouall Stuart (1815-1866), Adelaide Government Printer, 1860s
Downey, Gregory John, Telegraph messenger boys: labour, technology, and geography, 1850-1950. Routledge, New York, 2002
Downey, Greg, Information networks and urban spaces: the case of the Telegraph Messenger Boy, WayBack machine internet archive, Vol. 12, No. 1, November 1999
Koch, Grace, ed. Kaytetye Country: An Aboriginal History of the Barrow Creek Area, Alice Springs, Institute for Aboriginal Development Publications, 1993
Private diaries of R.C. Patterson. SLSA: D 8103. Daily activities of the Overland Telegraph construction team, 1871- 1872. Read online.
'Stapleton Relief Fund' The South Australian Advertiser (Adelaide, SA: 1858 - 1889) 3 March 1874
Turner, Ian, Cinderella Dressed in Yella: the first attempt at a definitive study of Australian children's play rhymes, Melbourne: Heinemann Educational Australia, 1969