Lust for Lifestyle
Modern Adelaide Homes 1950–1965

After the end of World War II, people started to look at life differently, wanting to celebrate the pleasure of everyday life, which became reflected in how they wanted their homes to look and function.
Lust for Lifestyle offers insights into how this generation of homeowners embraced modern family homes, designed by architects, which they felt better represented their personality and desired social status. It explores the thinking behind the design of some of South Australia's most well-known and beloved houses.
LANDSCAPE + LIVING
The Australian landscape began to inform designs. Rather than relying on the imported and often very formal British styles, homes began to take advantage of the more casual outdoor lifestyle offered by living in Australia.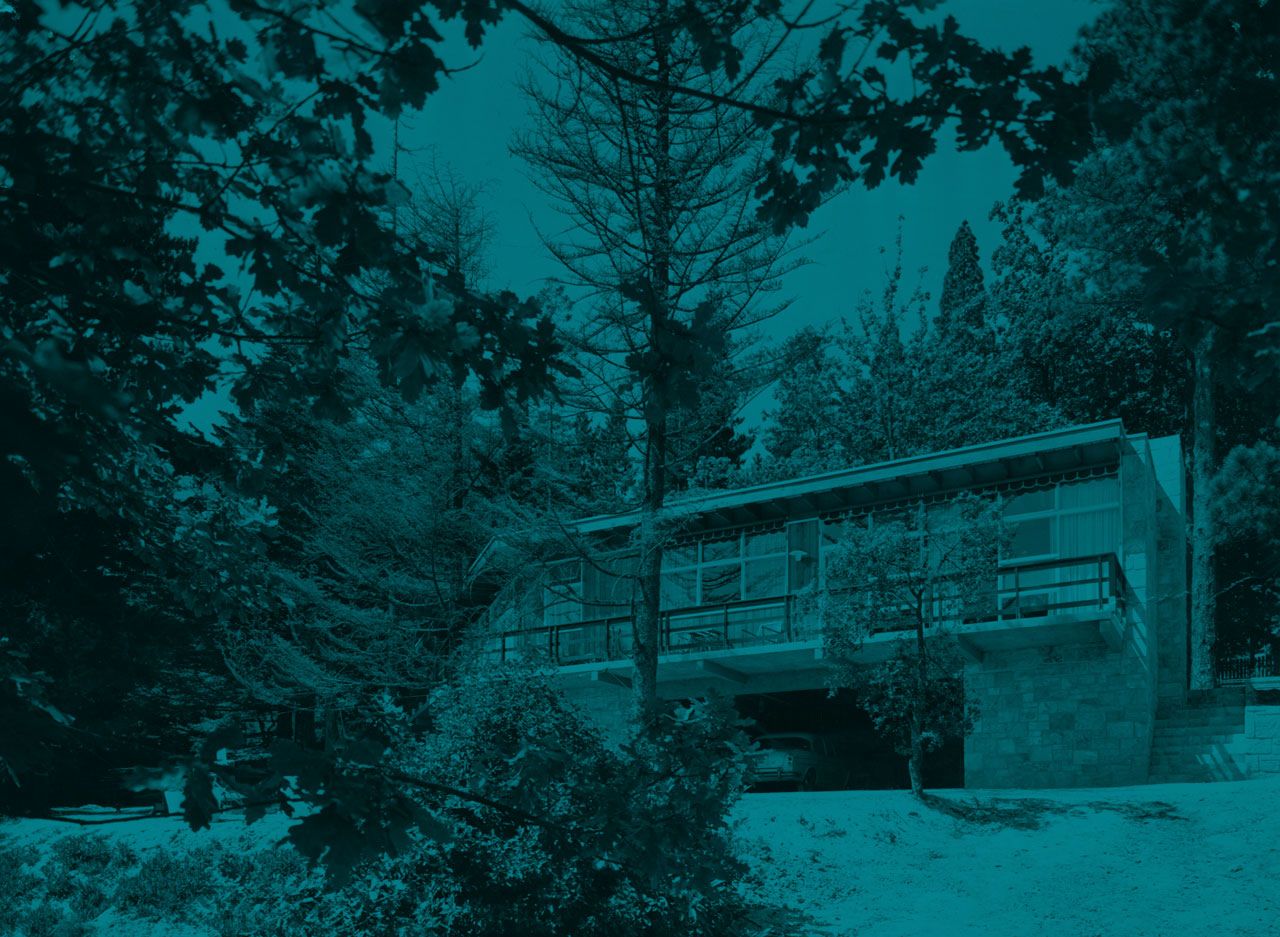 CLELAND HOUSE AND GARDEN, 1952–65
Architect: Don Thompson, John Chappel
Location: Waterfall Gully
In 1953, jazz drummer Bryan Kelly and his wife commissioned Don Thompson of Contemporary Designers Collaborative to design them a home on a large property crossed by Waterfall Gully Creek in the Adelaide Hills.
Describing the home's central feature as the 'excellent relationship between it and the surroundings', John Chappel (Advertiser, 17 October 1956) suggested the house had an 'organic' approach that previously had been advocated by American architect Frank Lloyd Wright.
Pam Cleland, pioneer in divorce and criminal law, and the first South Australian woman to join the Independent Bar, and physicist Fred Thonemann, who worked at the Long-Range Weapons Research Establishment and was involved in early computer data programs for rocket guidance systems, took over construction of this home when Kelly failed to complete its construction.
Between 1961 and 1965, they improved both house and garden, building a weir to flood the 'bush setting' and introducing azaleas, camellias, rhododendrons, oleanders and ferns.
John Chappel was commissioned to design and oversee alterations to the main house and the construction of a Japanese tea house (1962), professional chambers (1962–3) and garden pavilion (1964).
By 1965, both home and garden had been transformed into a place worthy of receiving an exclusive list of guests. With access to the garden strictly by word of mouth, guests included The Rolling Stones, Liberace, Sir Robert Helpmann, Rudolf Nureyev, Don Dunstan, Bob Hawke, Maggie Tabberer, Max Harris, and Michael Kirby.
DOLEY HOUSE, 1957
Architect: Maurice Doley
Location: Marryatville
Architect Maurice Doley used materials from the landscape inside his home to strengthen the link between indoors and outdoors.
In the mid-1940s, Maurice Doley joined Jack Cheesman and George Lawson to set up an architectural practice that evolved into the Adelaide firm, Lawson Cheesman and Doley, considered 'most highly regarded by the public, by fellow architects, both locally and nationally' (Maurice Edward Doley, 1907–1992, obituary Architect, South Australia March 1993). From 1964 to 1966, Doley was President of the South Australian Chapter of the Royal Australian Institute of Architects.
His home in Marryatville in Adelaide's eastern suburbs, is sited along the contours of First Creek which runs through the approximately 4000 square metre property. The design of the home was based on a desire to closely link the inside and outside, as many homes were during this period.
To achieve this, the same materials were used inside and out to create 'harmony with their wooded surroundings' (John Chappel Advertiser, 10 June 1960). Stone from the creek was used in interiors and walls, Hopper windows (small-hinged windows) regulated ventilation, steel trusses were concealed in the roof, and load-bearing steel window frames were included to allow for large transparent glass windows, providing stunning views of the garden and allowing light to enter.
"The house provided, a very desirable integration of garden and home, of interior and exterior, along with necessary sun control"
Having apprenticed at Kemp's Nursery in Kingswood in 1952, Robin Hill went into partnership with Richard Massey to establish the first landscape design practice in South Australia, Massey and Hill. He had been exposed to American ideas in contemporary landscape design, in particular those of highly regarded landscape architect Thomas Church. In 1958, Hill became a sole practitioner and his landscape design for the Doley house dates from this period. He used dense foliage to screen the building and obscure the suburban surroundings, allowing for the illusion of being in a more rural location.
The house won the 1966 Institute of Architects Award for Excellence. It was upgraded in 1998 by Phillips/Pilkington Architects who worked collaboratively with landscape consultant Viesturs Cielens to maintain the design spirit of the house and gardens. Viesturs was interviewed for this exhibition and that film can be seen here: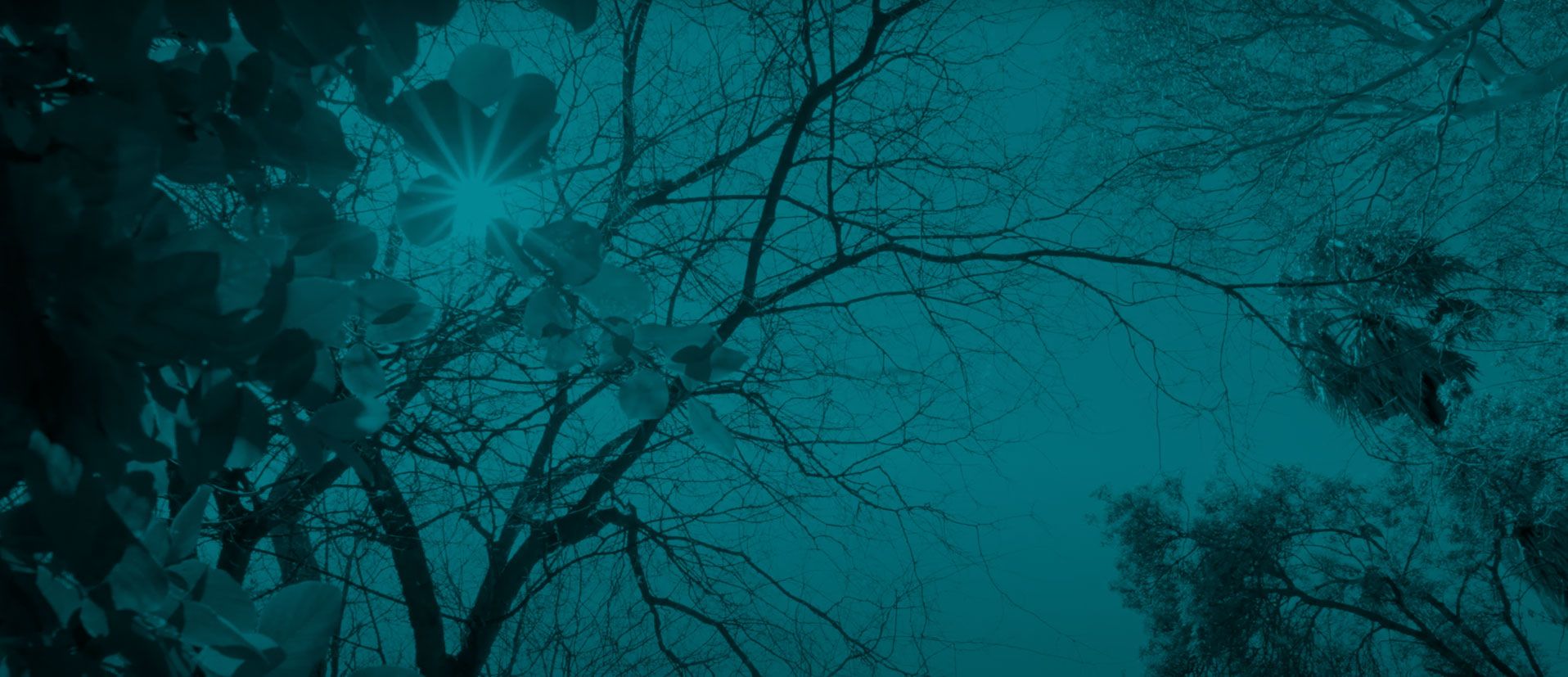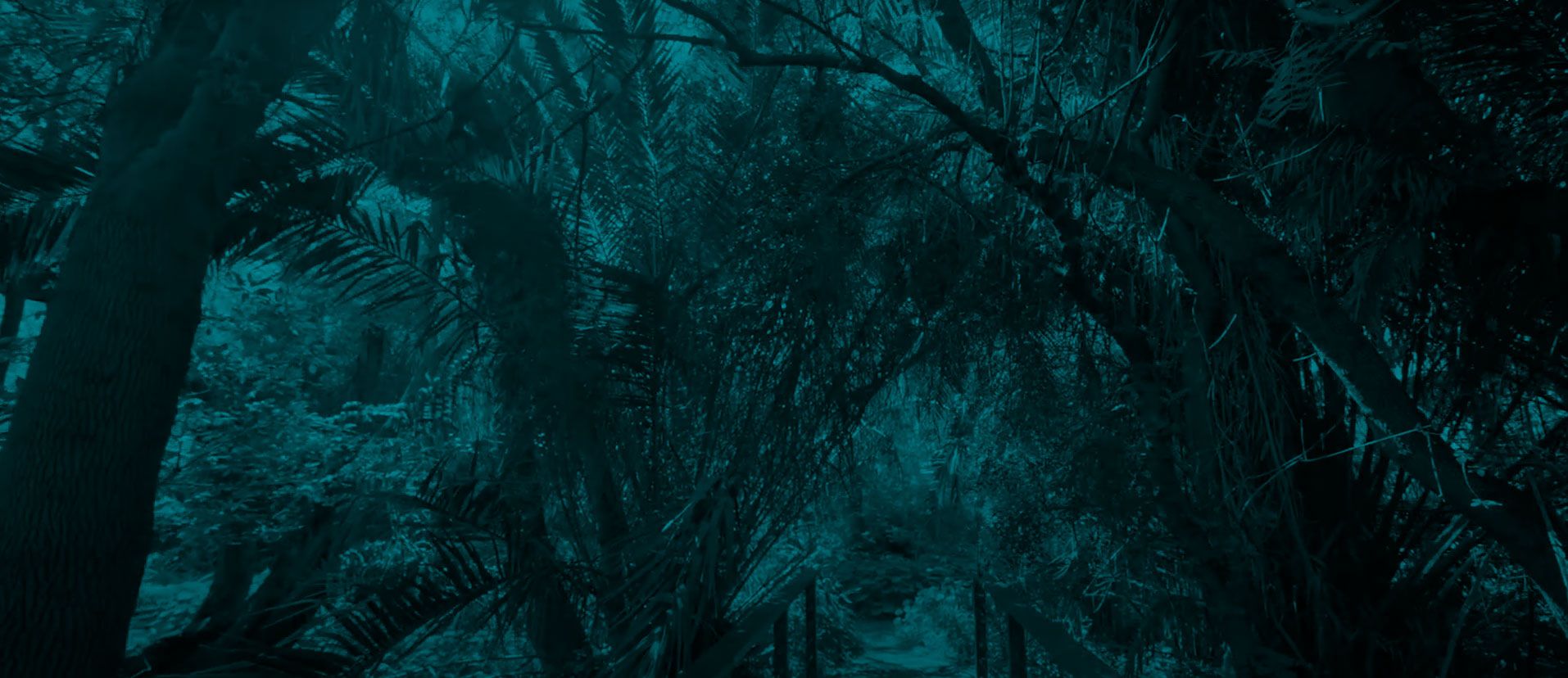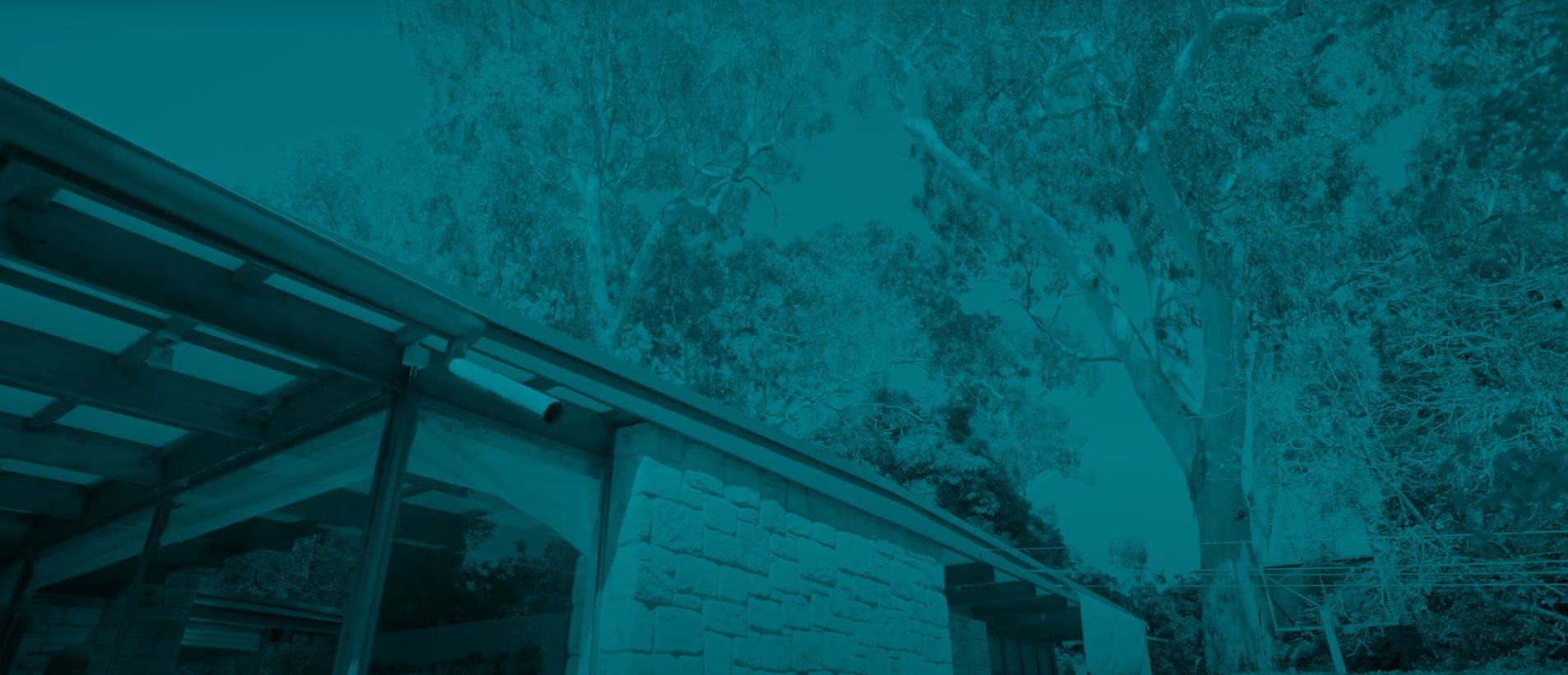 GARDNER HOUSE, 1960
Architect: Brian Vogt
Location: Fulham Gardens
Margaret Gardner was a primary school teacher who had come to Adelaide from nearby Strathalbyn. She enjoyed open space and gardening, so the site at Fulham Park in Adelaide's west was selected for its quiet location overlooking the River Torrens.
Designed by Brian Vogt of Cheesman, Doley, Brabham and Neighbour, the house itself was furnished by Langdon Badger.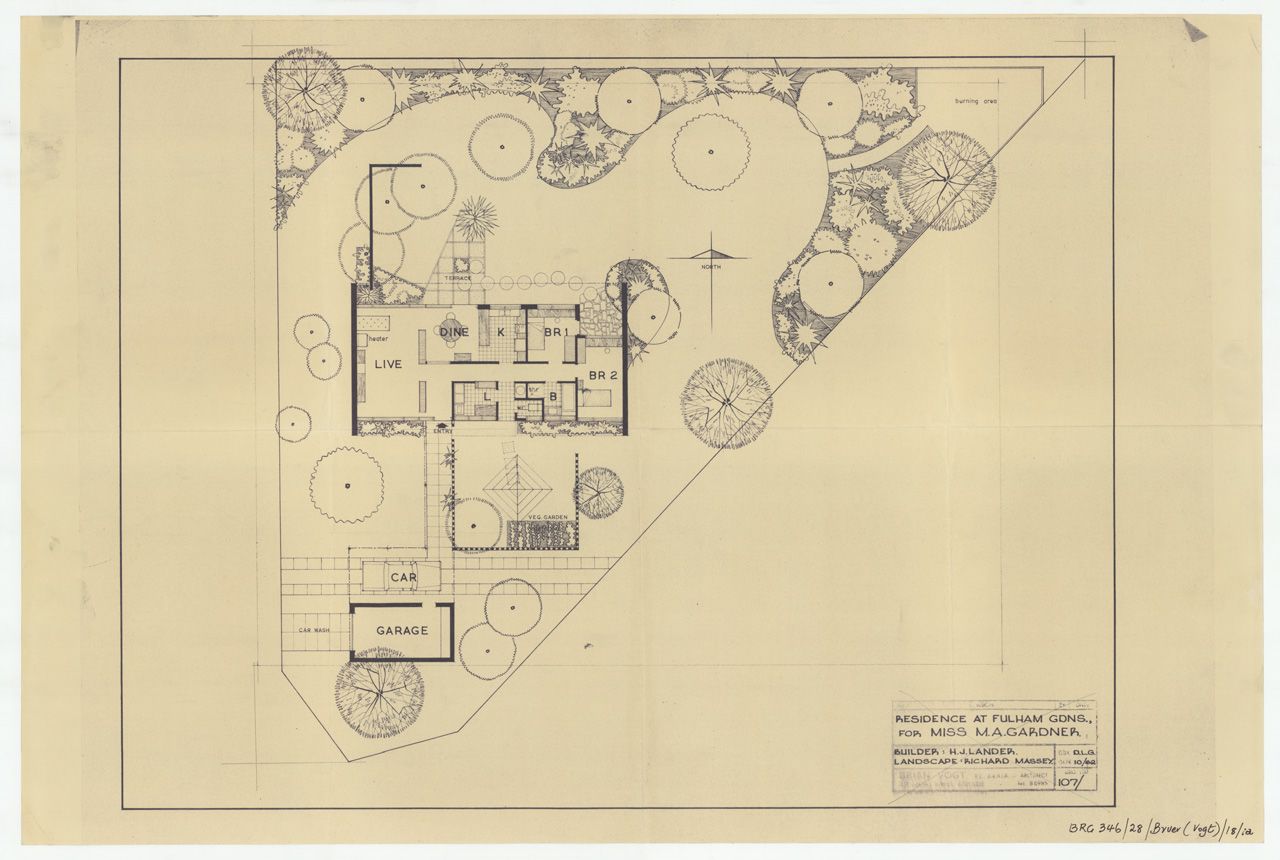 Gardner was keen to preserve the feeling of openness and informality, so she commissioned Richard Massey to design the garden for her new home. Massey, along with Robin Hill (landscape designer for the Michell and Doley houses), Allan Correy (Bonython house) and Ray Holliday were prominent midcentury landscape designers in South Australia. Both Massey and Hill started their careers at Kemp's Nursery in Kingswood, working on English style gardens. By the 1950s however, each were looking at ideas coming out of America, with Massey interested in the writings of Garrett Eckbo, a prominent landscape architect from California.
In a talk given to the Blackwood and District Tree Preservation and Gardening Society, Massey said that the 'ideal garden provides a beautiful setting for the house and lovely pictures to view out the windows' (Sunday Advertiser 9 April 1955).
At the Gardner house, Massey and Vogt wanted to maintain this sense of engagement with the broader landscape so whilst foliage was used as a screen to ensure privacy for the home, the property's boundary was blurred by large areas of sweeping lawn continuing onto the footpath, with trees strategically placed as boundary markers.
Massey wanted the gardens to be easy to maintain and to take full advantage of natural features such as existing trees. However, soon after the house's completion, this preservation of natural features came into conflict with the local Progress Association's approach who wanted trees cleared in the name of 'progress'.
An avid gardener, the garden was beautifully maintained by Margaret until she passed away in 1990. The house, and garden, no longer exist.
REDWOOD, THE NELSON HOUSE, 1960–61
Architect: E Caradoc Ashton
Location: Crafers
Redwood was designed with the preservation of existing trees as a key feature.
Overlooking a valley of heavily wooded country in the Adelaide Hills, 'Redwood' was commissioned in 1960 by Austrian migrants, Ingeborg and Anthony (Tony) Nelson.
Of Jewish descent, the Nelsons emigrated to Australia in 1938, changing their surname on arrival. Trained as a winemaker in Trieste, Italy, and working initially at Adelaide's Hamilton Wines, Tony Nelson was Managing Director of Woodley Wines Ltd from 1945–63, a successful time for the company. From 1955, he served as Consul for Austria in South Australia.
In 1953 the Nelsons purchased the land at Crafers as it had views 'reminiscent of the Austrian Tyrol'. Initially, the family regularly holidayed on the site from their St Georges home in Adelaide's eastern suburbs, to stay in a cabin fitted like an 'Austrian chalet' (Sunday Mail, 30 January 1960) while they waited for their new home to be created.
Having previously designed several residential homes for wealthy clients, E Caradoc Ashton's design for the new house was dictated by the desire to preserve existing trees, a steep slope across the site, and needing to keep the incredible views to the northwest down a gully.
Intended to feel like you were living in a painting, the home was furnished with imports from Vienna and a replica kitchen in a European style, with picture-frame views of the 'Alpine' setting outside.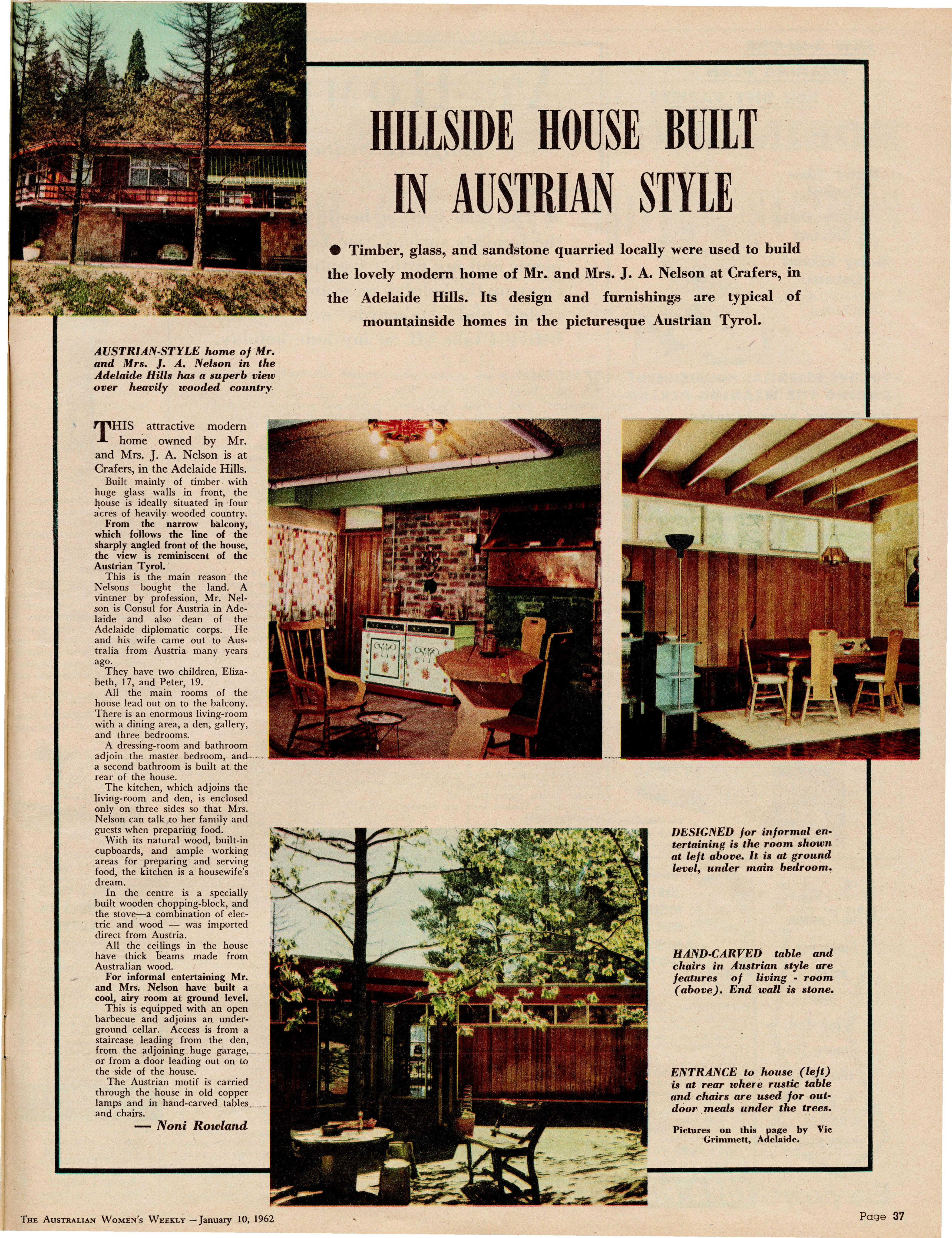 The house is situated deep in the depths of the site, away from roads and neighbours, with the driveway ending at a porte-cochère (carriage porch) where the owner's Bentley would be parked.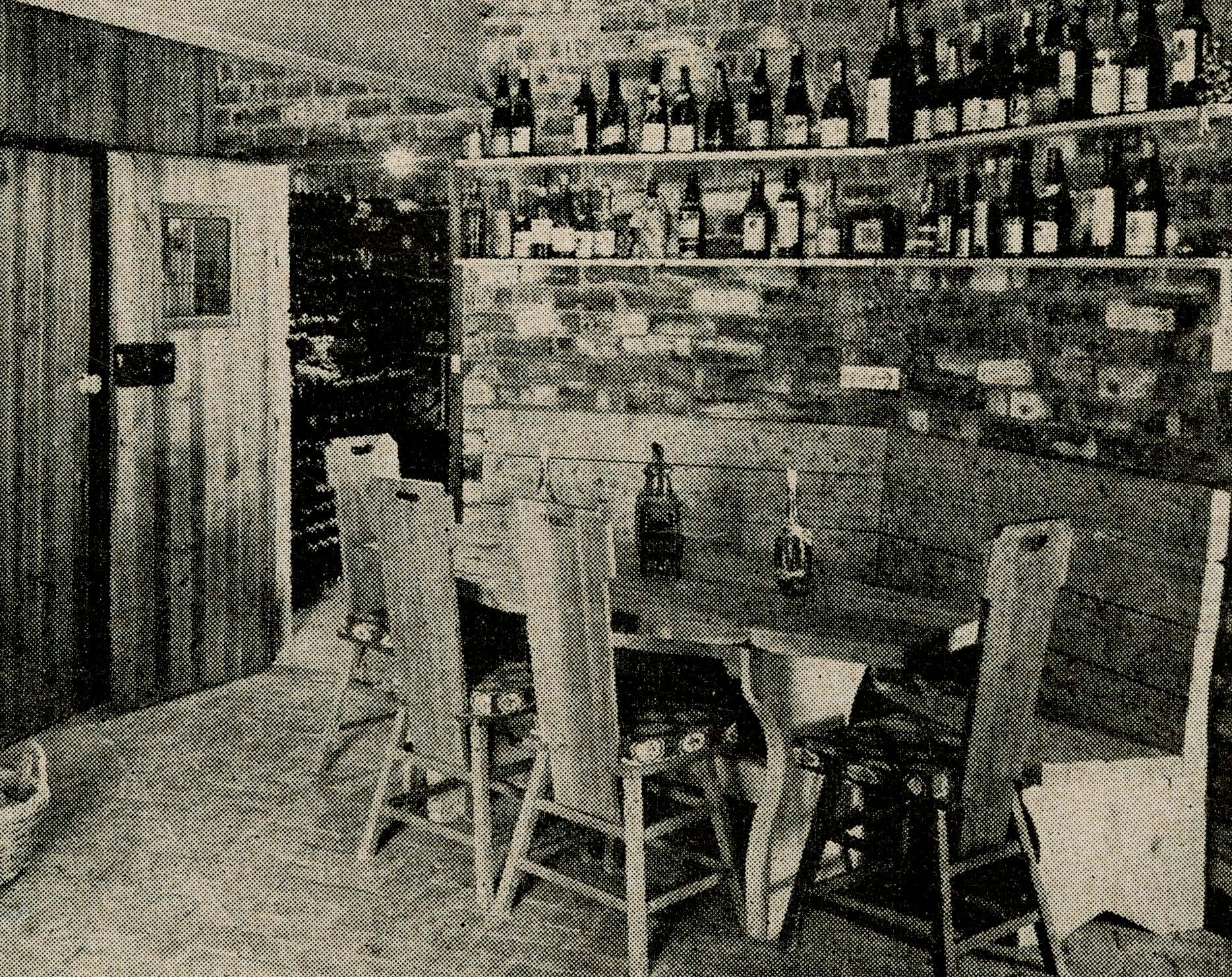 A Tyrolean keller stübel (basement room) was accessed from a timber stairway leading from the den to a cool ground-level room built for informal entertaining.
Furnished with traditional Austrian motifs and hand-crafted furniture, the wine cellar was an immersive space that impressed visitors through a collection of the best wines from around the world. Perfect for informal entertaining, the space included an open fireplace for barbecues, where Nelson entertained visitors, such as Rudi Kronberger from Yalumba.
Along with a social circle associated with winemaking, the Nelsons moved among other migrants including Marie-Louise Mathilde (Marlis) Thiersch who was co-founder of Australasian Association for Theatre, Drama and Performance Studies, founder of Musica Viva Edith Dubsky, cardiologist Ernst Flaum, and 'Charlie' Winter who contributed to the development of psychoanalysis in Australia.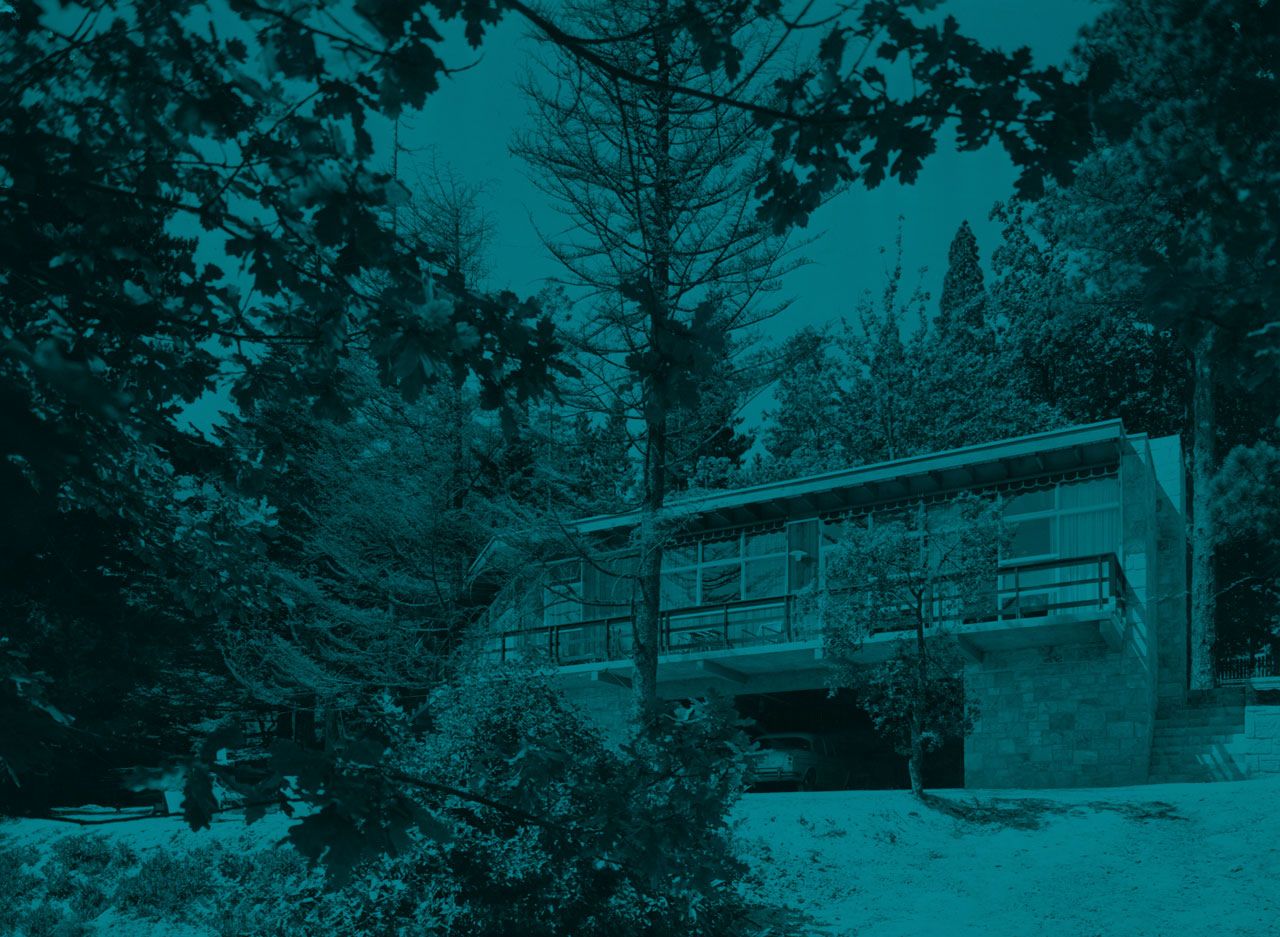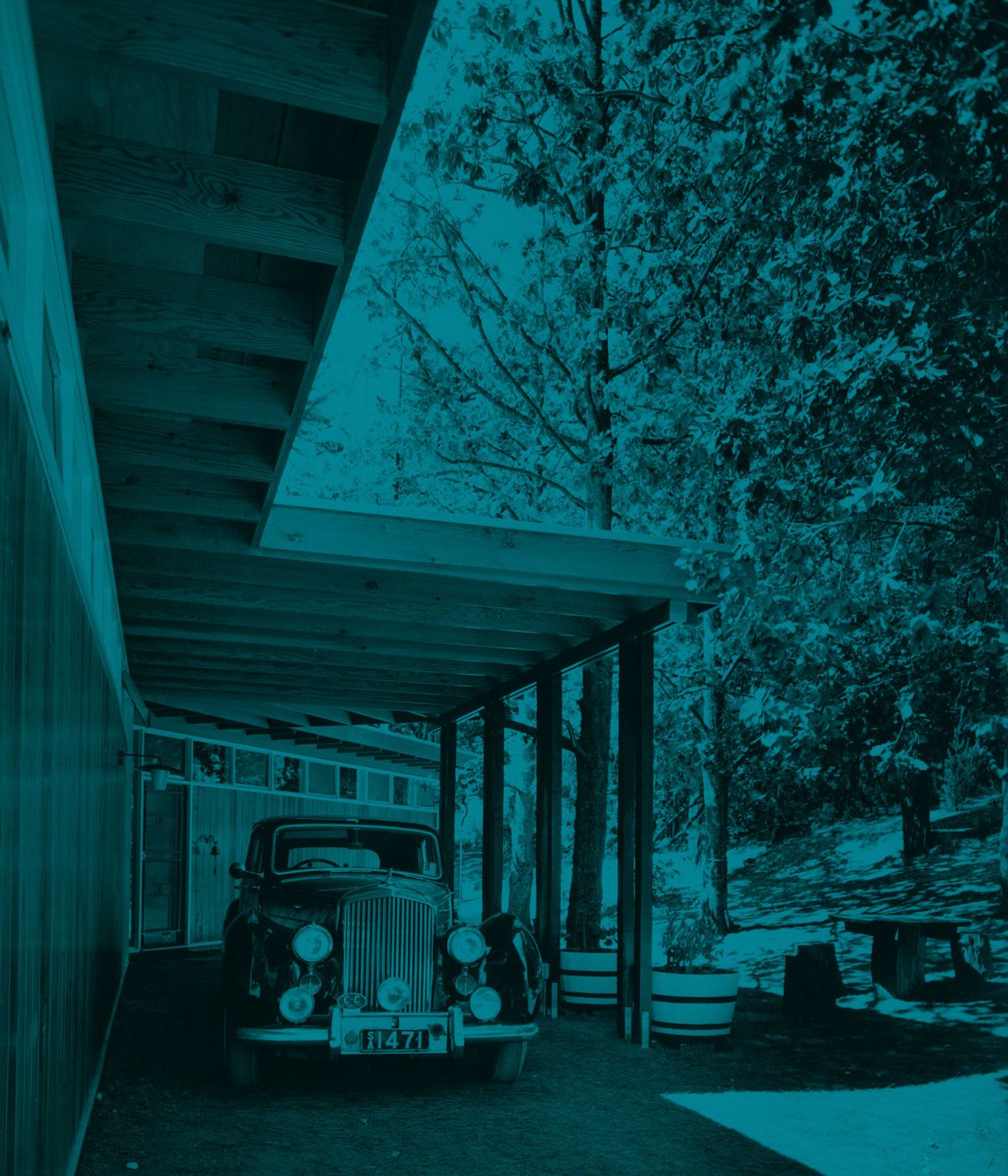 FAMILY LIFE
Building a family home which provided an environment that was spacious and sunlight helped family life thrive. Domestic help was often still needed to ensure the family's comfort and convenience. The ways a domestic labour force such as cooks, gardeners and cleaners entered and moved around the house often became a design consideration depending on whether they were considered a part of, or separate from, the family.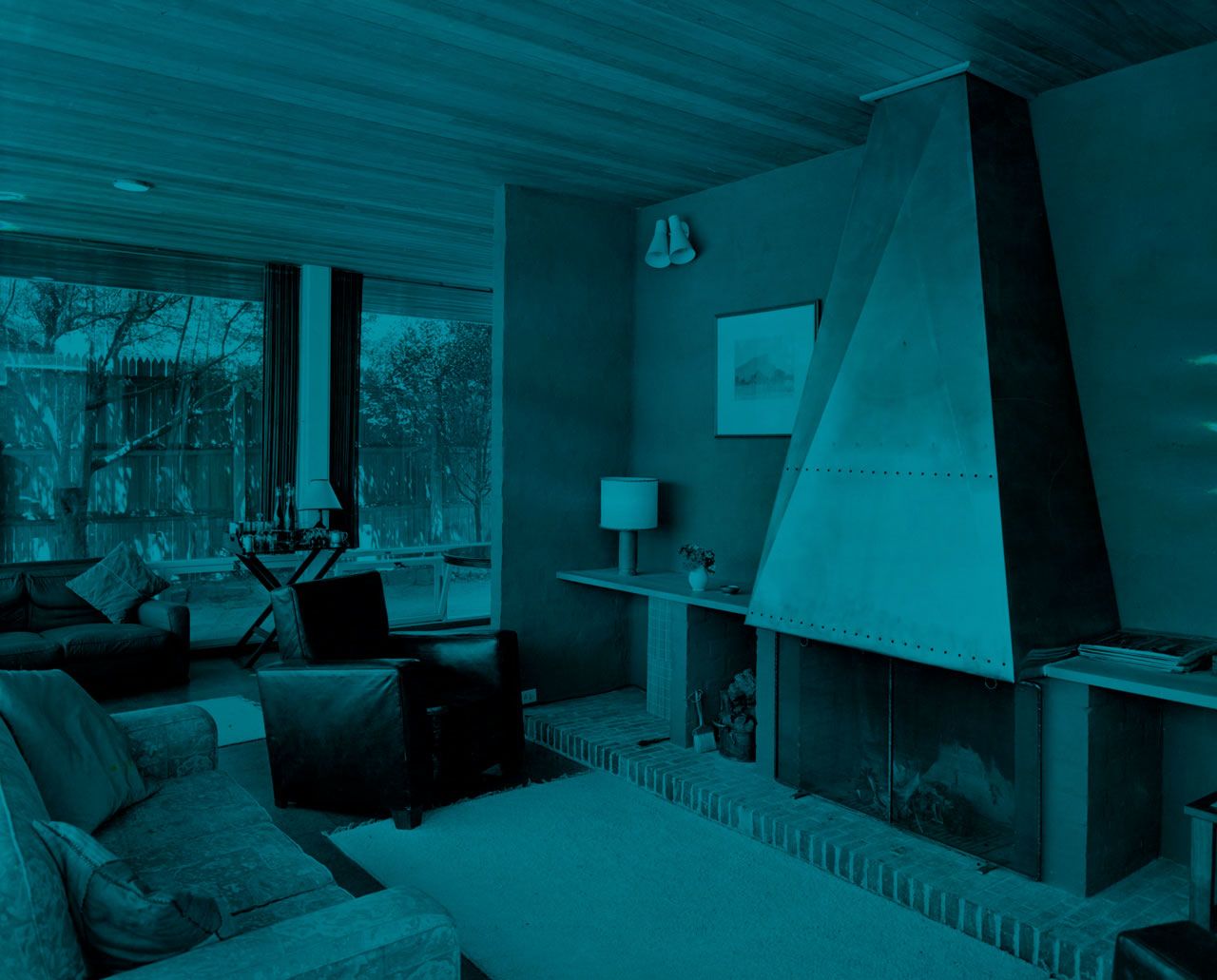 MICHELL HOUSE, 1964
Architect: Peter Muller
Location: Medindie
In June 1960, Australian home beautiful described Peter Muller as 'one of Australia's pacesetters in the move among the coming generation of architects to break away from tradition and build houses more in keeping with the Australian landscape'.
In 1964, he demonstrated this when engaged to design two properties in Adelaide – the IPEC head office at Frewville, and this magnificent house in affluent Medindie for the established Adelaide wool family, the Michells.
Located on a corner allotment overlooking the parklands, the site was previously occupied by 'Avenel Gardens,' a grand two-storied traditional brick and sandstone villa with a wraparound verandah.
The Michells were not keen on raising their children in a home which they felt had gloomy interiors and maids' quarters spread over two levels. They wanted an environment which was open to sunlight, with views and a private garden, so after inspecting other local modern homes, they approached Muller to design a new home.
Along with the incorporation of Japanese motifs and shoji (single panels sliding in a groove), the Michells wanted their new home to have bedrooms and living spaces forming an open court in the centre where they could look out over a private garden. Internally, spaces were designed so the view was directed out towards this garden area,
Having journeyed to Frank Lloyd Wright's home 'Taliesin' in Wisconsin USA, Muller became interested in horizontal designs so he incorporated them here using an unbroken horizontal ridge line and a constant height for the garden walls, with only existing trees interrupting the horizontal emphasis. Muller's interests in 'quality without extravagance', and 'solidity rather than lightness' are also evident in the design.
As his IPEC project had run down the availability of bluestone in the area, sandstone salvaged from the demolition of the original house was repurposed as non-loadbearing piers and placed within the landscape, establishing a connection between the garden and the house.
Few of Muller's original drawings survive. We would like to thank Patricia Michell for allowing us to digitise these drawings. The house remains as it was designed, and Patricia was interviewed for the 2021 Lust for Lifestyle exhibition.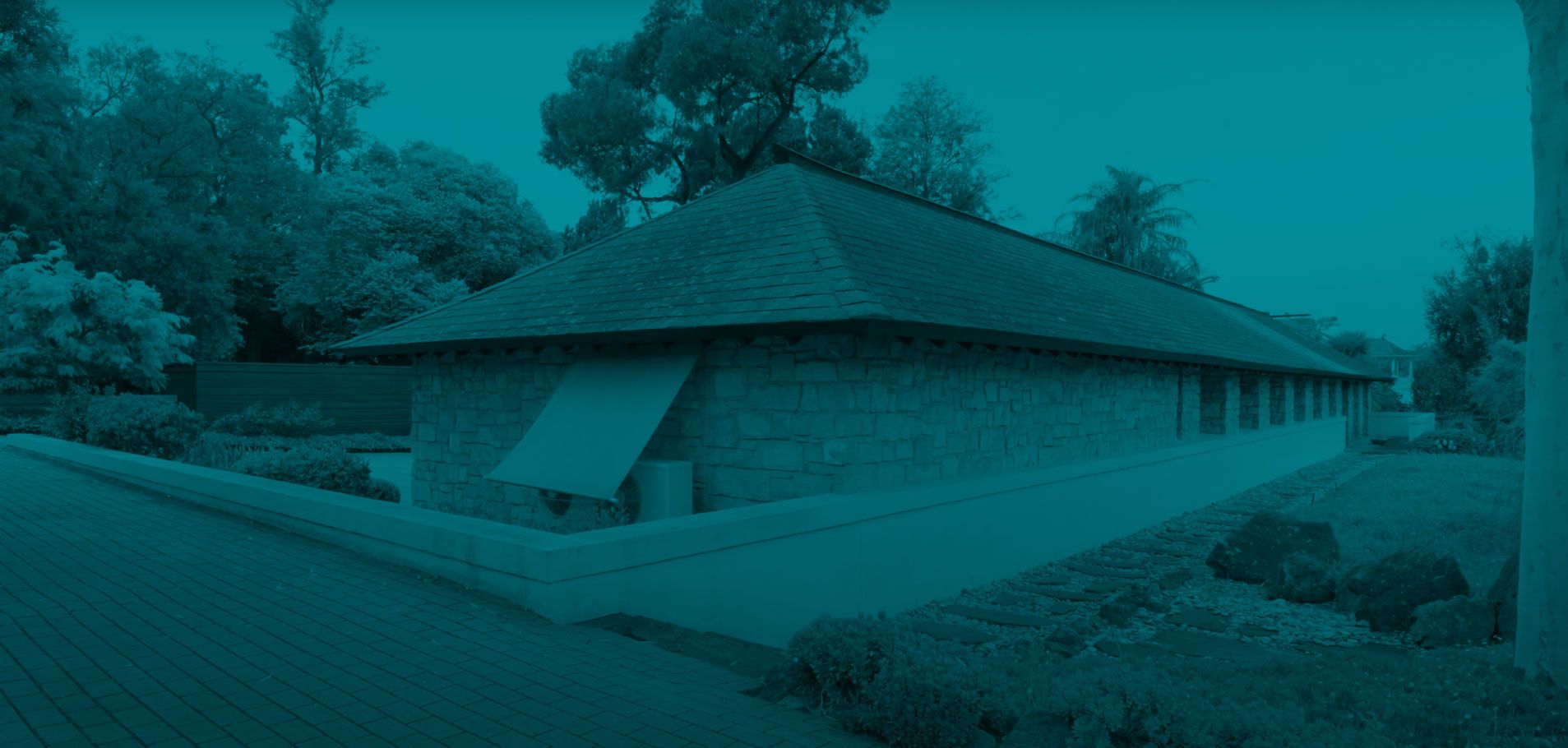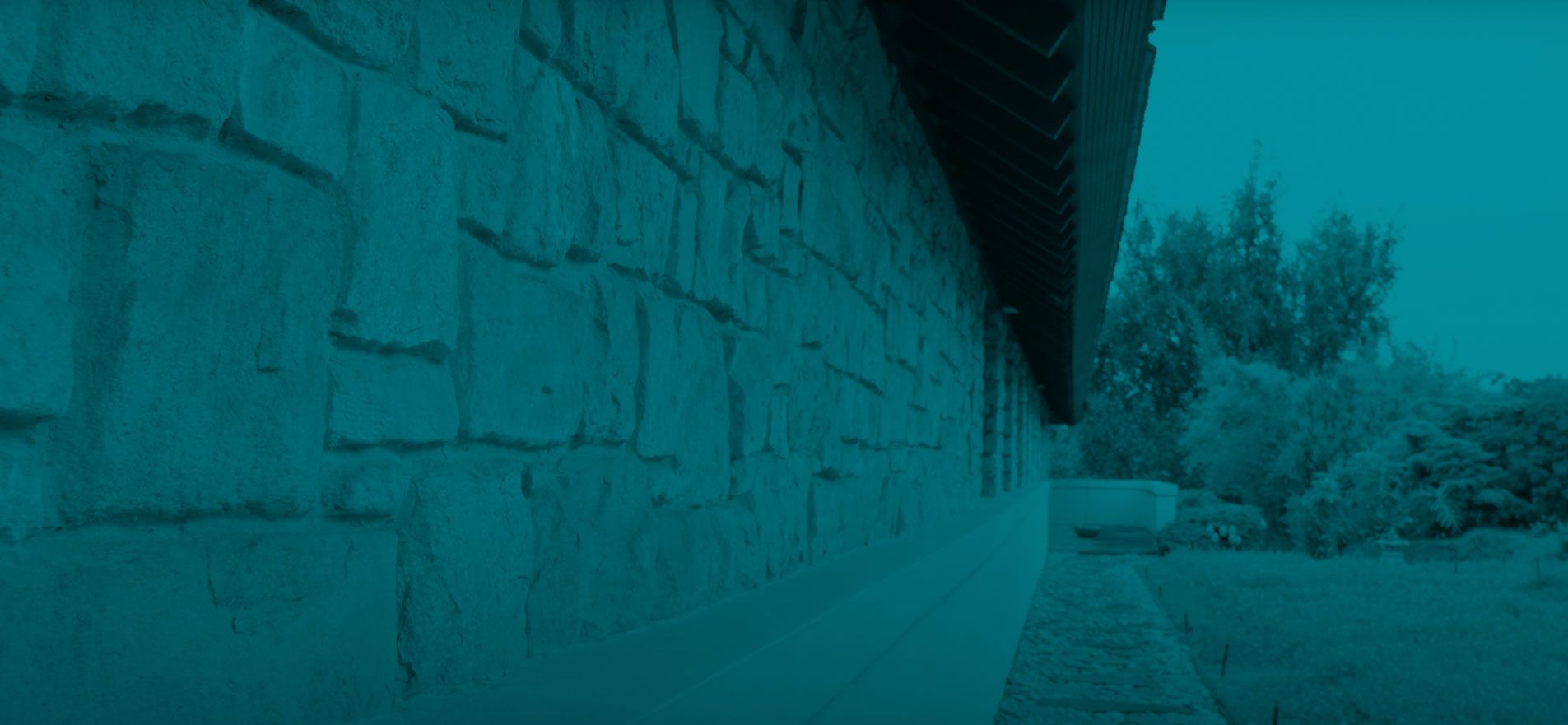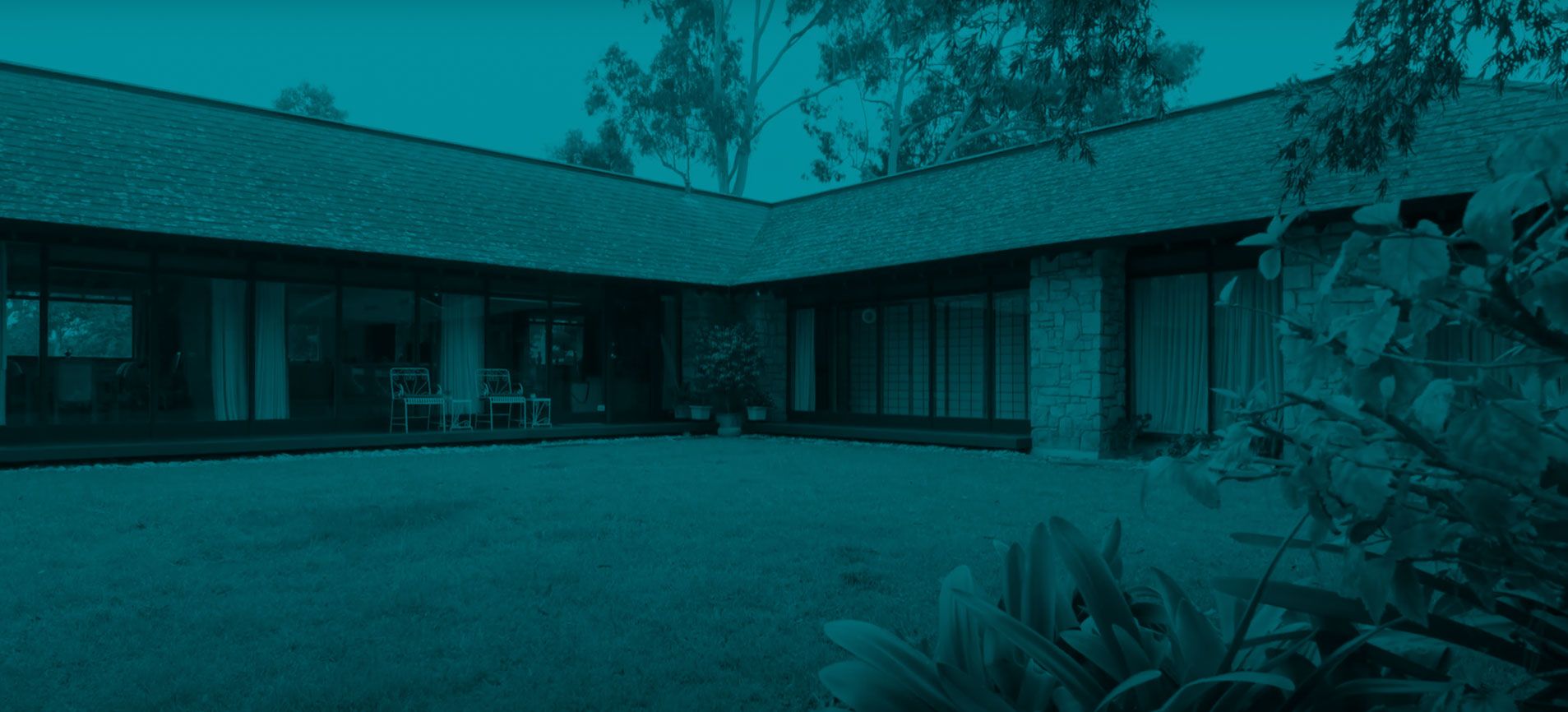 MILLER HOUSE, 1966
Architect: Brian Vogt
Location: Walkerville
The Miller House used dual corridors to split the interior of the house and reduce the family's contact with the workforce.
Who's who in Australia lists Dr Malcolm Miller as an Honorary Physician at the Queen Elizabeth Hospital, Woodville. In 1965, he moved from his North Adelaide home to Walkerville in Adelaide's inner north-east where he resided in a large nine-room 'simple modern house' designed by Brian Vogt.
In John Chappel's article about the house, he wrote that a house 'should give a clue to the taste and personality of the family which occupies it' (Advertiser, 6 April 1966). The design of the Miller home provided a setting for the owner's collection of antique furniture which had been arranged in 'complete harmony' with the modern house in well-lit, generous sized rooms.
The dining room was furnished with a large antique table for entertaining and the space opened out onto a north-facing garden to create an indoor/outdoor space.
The drawing-room had a unique glass corner window and, despite a marble fireplace surround, there were no other ornaments.
Even though the house was to be kept simple, there was still a need for domestic labour. Unlike the Walkley House where the housekeeper had her bedroom on the same floor as the family, the Millers wanted to reduce contact between the family and the help so the home was segregated by two corridors. Chappel thought this feature noteworthy, commenting that the house enabled both 'family and sleeping areas to be cut off from daily household activities.'
WALKLEY HOUSE, 1956
Architect: Robin Boyd
Location: North Adelaide
Architect Robin Boyd created the Walkley House using a steel frame previously only used in industrial construction to allow the upper levels to overhang the lower ones, making them look like they were floating.
A descendent of South Australian pioneer Samuel Walkley, Gavin Walkley was Cambridge educated, well-travelled and had succeeded Louis Laybourne-Smith as Head of the School of Architecture at the South Australian School of Mines and Industries (now University of South Australia) – a position he held for twenty-five years.
Melbourne architect Robin Boyd's ground-breaking publication Australia's Home (1952) was the first substantial historical survey of Australian domestic architecture and it established him both nationally and internationally.
In 1956, Walkley engaged Boyd to design a new home for his two children and a housekeeper. It was to replace a Henry Stuckey and Edward William Wright designed colonial Georgian cottage that was built between 1845 and 1850. In Walkley's recounting, the cottage was maladapted and in disrepair, the slate roof leaked, and it had rising damp and white ants.
The house Boyd designed for Walkley was in a class of its own. In his regular newspaper column John Chappel claimed it was 'unlike anything previously built-in South Australia' (Advertiser 6 June 1956).
"[Boyd] looked out at our elderly neighbours - Christ Church, the Rectory, Bishop's Court, and a number of other stone houses - and he observed the view across Palmer Gardens to the Adelaide Hills."
He wanted to create a new home that connected to its surroundings, and the arrangement of rooms was based on specific needs. On the ground floor the service spaces and the combined living areas were kept separate so the family could remain away from the domestic labour during the day, yet on the upper level were bedrooms for the family members and also for the housekeeper so she was partially integrated into the home. From the outside, any separation of these spaces was hidden by a grid-patterned curtain wall facade.
The house had a steel frame construction, which had previously been limited to industry and commercial building. This allowed the upper levels to overhang the ground-level glass walls, achieving an illusion of 'floating', while copper, stainless steel, and cork floor tiles were used internally. These new ways of using materials supports the home's modern status however despite provoking 'considerable comment' at the sixth Australian Architectural Convention that was held in Adelaide the same year, all the neighbours 'disapproved of it'.
In his notes on the house, Walkley remarked with alarm that Boyd had once 'arrived hatless' during a visit to the house when it was under construction. And he was right, the house does command the presence of a hat!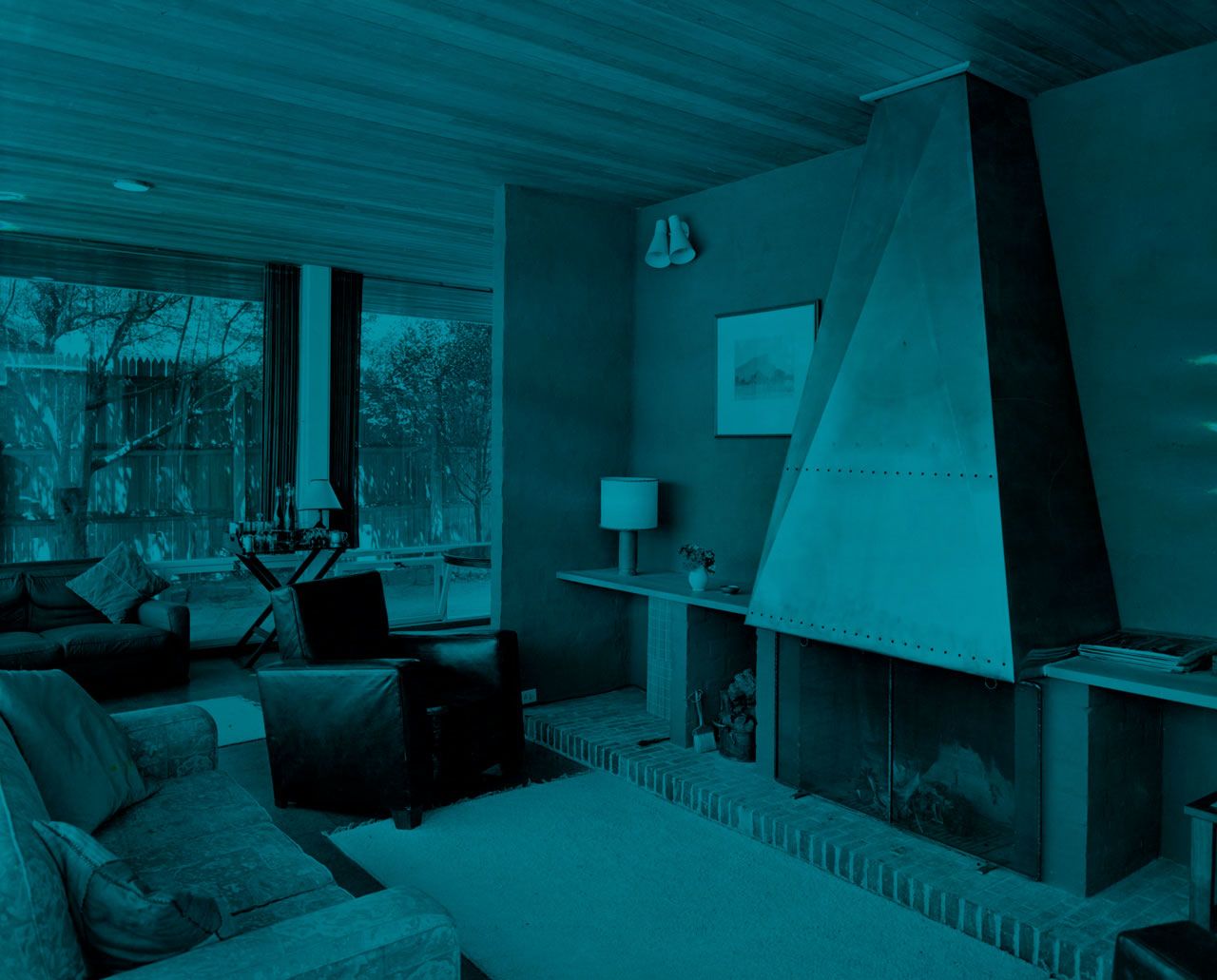 LUXURY LIVING
The allure for the modern lifestyle based on the desire to entertain, live less formally and to cultivate a new awareness for the Australian landscape, saw modern houses became synonymous with celebrating the pleasures of 'everyday life', and these houses in turn served as vibrant nodes expressing and spreading new desires for wealth and prosperity.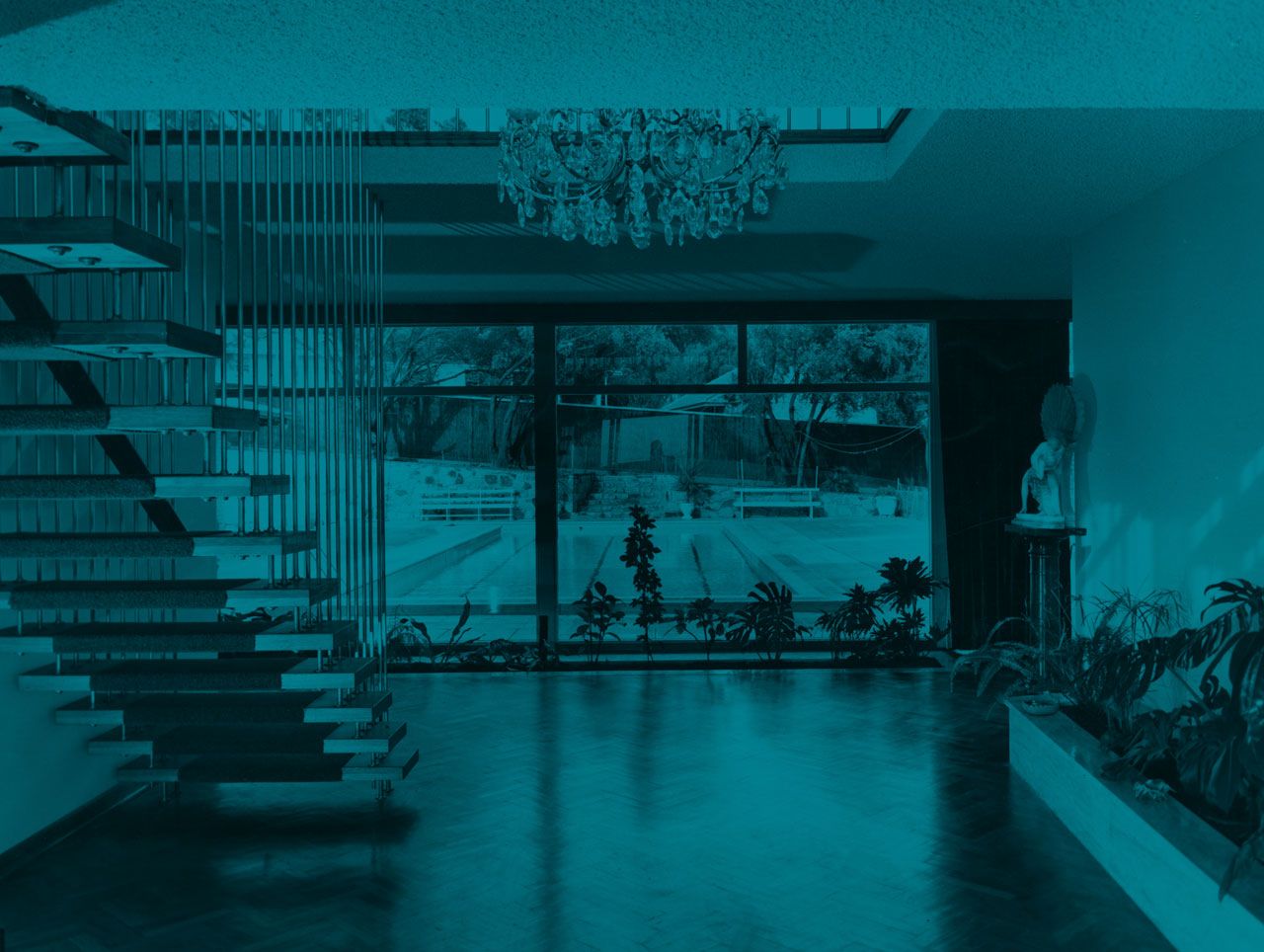 Interior view of house on Balfour Road, Springfield, built for Alf Brown and designed by John S. Chappel Pty Ltd, architect. Showing view of room with interior garden, large windows looking out to the swimming pool, and staircase with floating stairs. SLSA: BRG 346/29/27/10
Interior view of house on Balfour Road, Springfield, built for Alf Brown and designed by John S. Chappel Pty Ltd, architect. Showing view of room with interior garden, large windows looking out to the swimming pool, and staircase with floating stairs. SLSA: BRG 346/29/27/10
ABEL SMITH AND KIDMAN HOUSE, 1964
Architect: John Chappel
Location: Fulham Park
The Blackler family established the Fulham Park stud in 1874, specialising in the breeding of thoroughbred horses. In 1912, the stud was sold to Sir Sidney Kidman and in 1961 it was the venue for a reception following one of Australia's biggest society weddings when Sir Sidney's granddaughter Anne married Robin Abel Smith.
Abel Smith, an 'enthusiastic gentleman jockey' was the son of Hon. William Rollo of 'Oakham,' in Rutland England and kinsman of the Governor of Queensland, Sir Henry Abel Smith (Australian Women's Weekly,18 October 1961).
The stud initially occupied an area ranging from Grange Road to south of Henley Beach Road along Adelaide's coastline, but by the 1960s the Kidman family had retained 70 acres of stud land and their cattle and sheep interests extended over large areas of Australia (Advertiser, 28 July 1966).
With a grand avenue of large gum trees lining the main track that connected the Fulham Park homestead to stables and training track, this historic home remained in its original condition until 1964, when John Chappel was commissioned to restore and extend the building, doubling its size in the process. With the aim of retaining its character, Chappel enlarged the homestead's windows to give more light and a wider view, while the two front rooms were opened out to form a large living room with an enormous new fireplace as the centrepiece.
Additions to the homestead also included three bedrooms, two bathrooms, maids' quarters, and a large family room kitchen. French doors opened out to a secluded north-facing courtyard in which guests were entertained. A separate guest suite, closed off from the day-to-day activities of the house, was for regal visitors and guests.
Walls and woodwork were painted white to provide a suitable backdrop to the family's large art collection, completing the transformation of the home.
BROWN HOUSE, 1962-63
Architect: John Chappel
Location: Springfield
Recognised at the time as 'Adelaide's Largest Modern House,' the Brown House sits on a north-facing double allotment in Springfield, an affluent suburb of Adelaide located in the foothills of the Mount Lofty Ranges.
Alfred Brown had arrived from Melbourne in the 1930s and, along with his brother, was directed by their father Walter to establish a scrap metal business in Adelaide, known as Paramount Browns'. Following the lifting of restrictions after the War, the business established a huge export market to Japan and by 1964 the company had more than 120 trucks.
The wealth generated by this booming business allowed Alfred to commission architect John Chappel to design a house for his wife Delma, and three of their four children. At the time the house was reported to be 'the most modern and luxurious in Adelaide' (David Capel, News, 20 December 1963).
Formal entrance to the home is through double doors under a porte-cocèhre or 'carriage porch'. The 'carriage porch' was originally used to provide a covered entrance large enough for a coach and horses. After the war, it became a feature that celebrated car culture as guests could drive their cars right up to the front door and it was therefore considered a sign of luxury.
As you walk through the double-height entrance lobby with suspended chandelier, you can see other luxury features including polished parquet floors, French polished woodwork, a suspended 'harp string' stair of solid brass rods and a marble fireplace.
The Browns had seven bedrooms, each with its own dedicated bathroom, a bar room, billiard room, dining room, living room and kitchen, in addition to two stair halls and two galleries.
Dual balconies allow panoramic views of the city, and the house has been fully air-conditioned since it was built, a rare luxury at the time.
Outside the home, the three wings of the home each have a gabled roof and deep eaves that form a protected courtyard around a quarter Olympic sized swimming pool. With two competition swimmers in the family, the pool was a focus for the house's indoor/outdoor living, so a barbeque and changerooms were also built out here to make the space easy for the family to spend time in.
There are also six garages, where Alfred Brown's Mercedes-Benz 300 SE, Delma's Mercedes-Benz 220SL and two Chryslers were parked.
A second entry served as the service entrance where the maid and gardener could come and go as needed without interrupting the family.
THE BILLAM HOUSE, 1963-64
Location: North Brighton
Architect: John Chappel
This 'spectacular adobe ranch house' (Australian House and Garden, May 1965) located on the Esplanade at North Brighton in Adelaide's south, was commissioned by 35-year-old Robert Billam and his wife Audrey.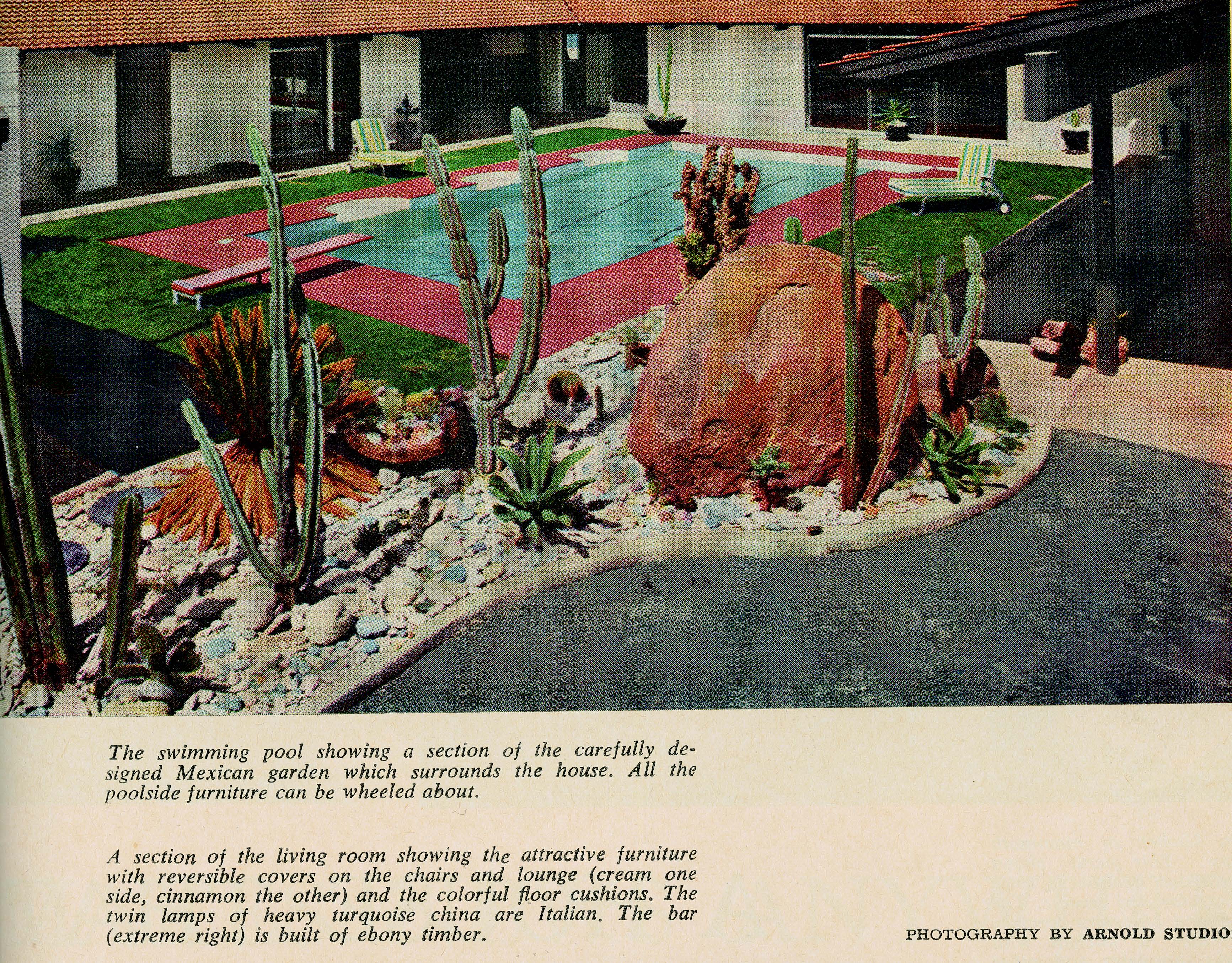 Billam owned Para Motors on West Terrace, a booming new and used car business that held the distributorship for Mitsubishi, and later Datsun, for South Australia. Regularly featuring in the social pages, Audrey's father was Brigadier Arthur Sewell OBE, the highest-ranking officer in South Australia, President of the SA Chamber of Manufacturers, and friend of Prime Minister Robert Menzies.
The Billams liked to travel internationally and while they had visited real ranch homes in Southern California, it was their copy of the 1958 book Western ranch houses by Cliff May (then 'dean of modern ranch house architects') that made them want an authentic looking modern ranch of their own.
After buying three blocks along the seafront, the Billams commissioned John Chappel as an architect who could 'combine his talents with those of Cliff May to create a typical Mexican ranch house'.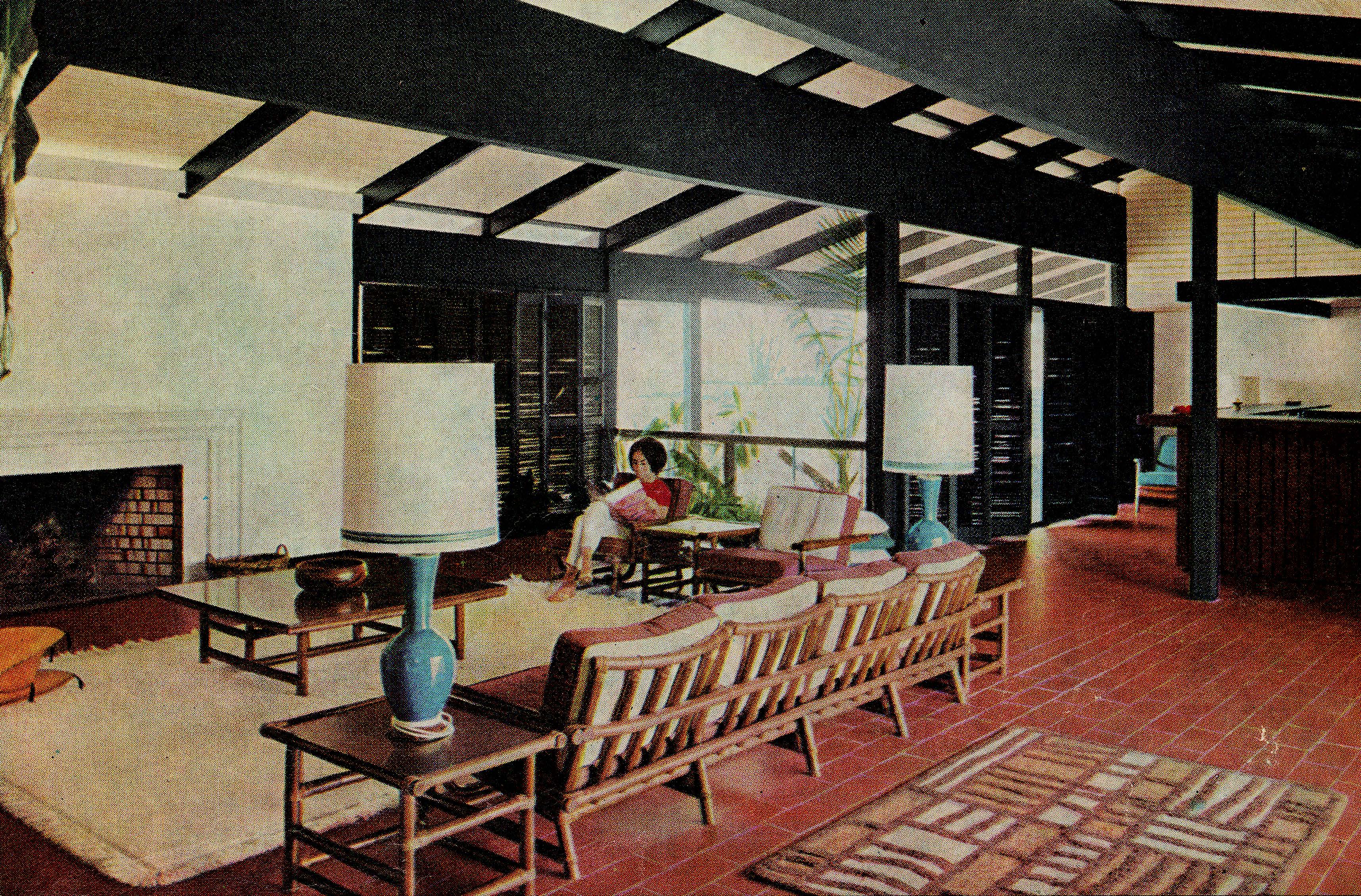 The house consisted of three wings, each with a gabled roof and deep eaves, that formed a protected courtyard where they had a heated swimming pool, a considerable luxury at that time. Inside, the house was only furnished by the essentials. Windows were aluminium 'ranchos' style, protected from the sun by black painted inward folding shutters, with no curtains.
The lounge, including a bar area for entertaining, had concealed lighting and was furnished with exotic rattan furniture from US luxury department store Nieman Marcus. Along with interior greenery and a huge open fireplace, the space was tastefully decorated with furniture and art collected from their overseas travels, including pottery from Vallauris, France. Its industrial sized kitchen included dual ovens, 'garbage' disposal and substantial refrigerators shipped from the United States. They also had an early example of a dishwasher, which was presumably only used by their housekeeper.
Outside, a concealed driveway provided access to a motor court where luxury cars including an Aston Martin, Ferrari, Mercedes, and Lamborghini, were parked. The rear of the house was secluded, with tall perimeter fences screening off neighbours and supporting the feeling of living out on a ranch.
Described by Australian house and garden as 'the ultimate in family living,' the house had a housekeeper, cleaner, gardener and pool attendant. The family also had a nanny, Jessie Plush, who became a member of the family. Jessie was interviewed for this exhibition and that film can be seen here:
In 1965 a horse named Kotor was bought for one of the children and made its home on the grounds too.
Awarded a South Australian Institute of Architects Award of Merit in 1965, the house has sadly since been demolished, replaced by townhouses.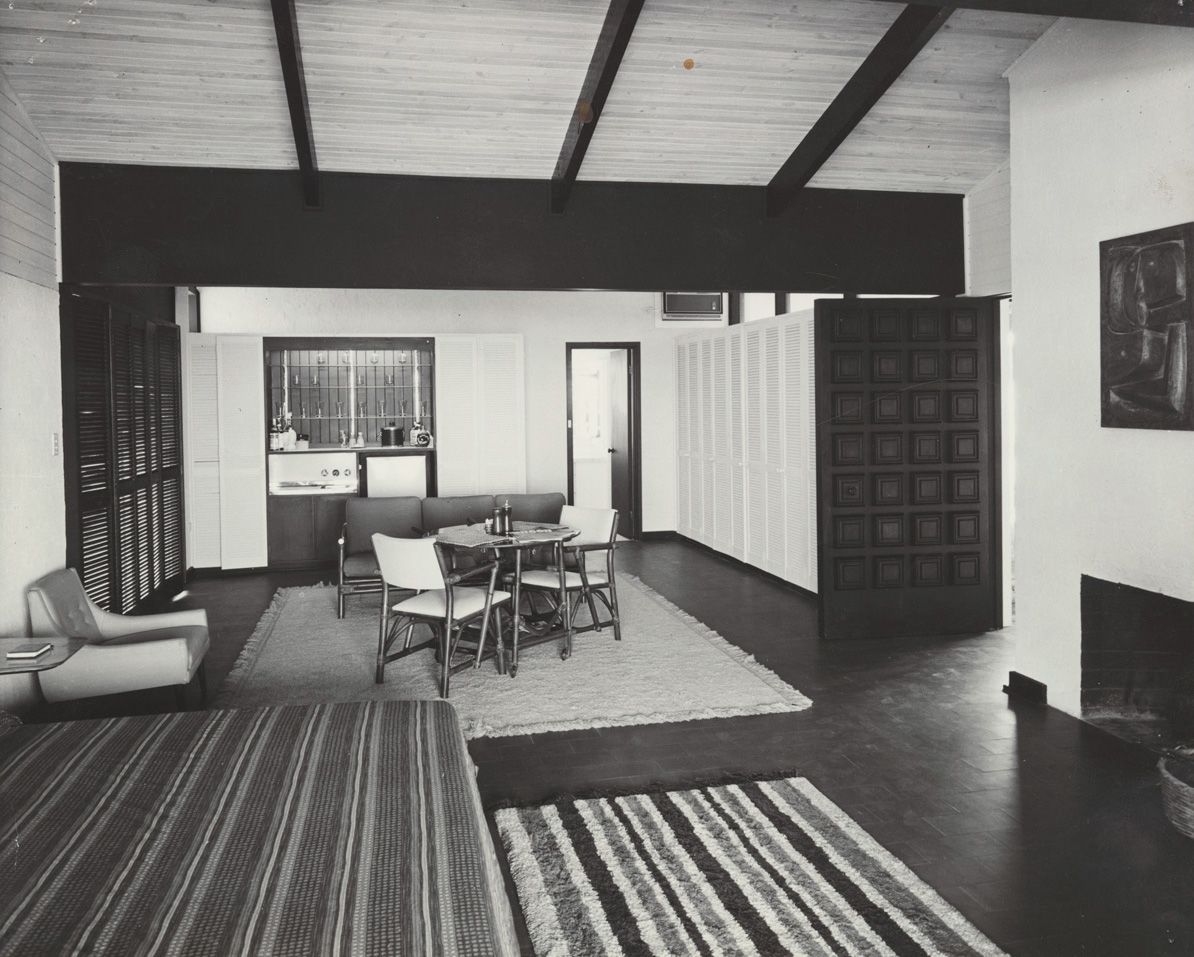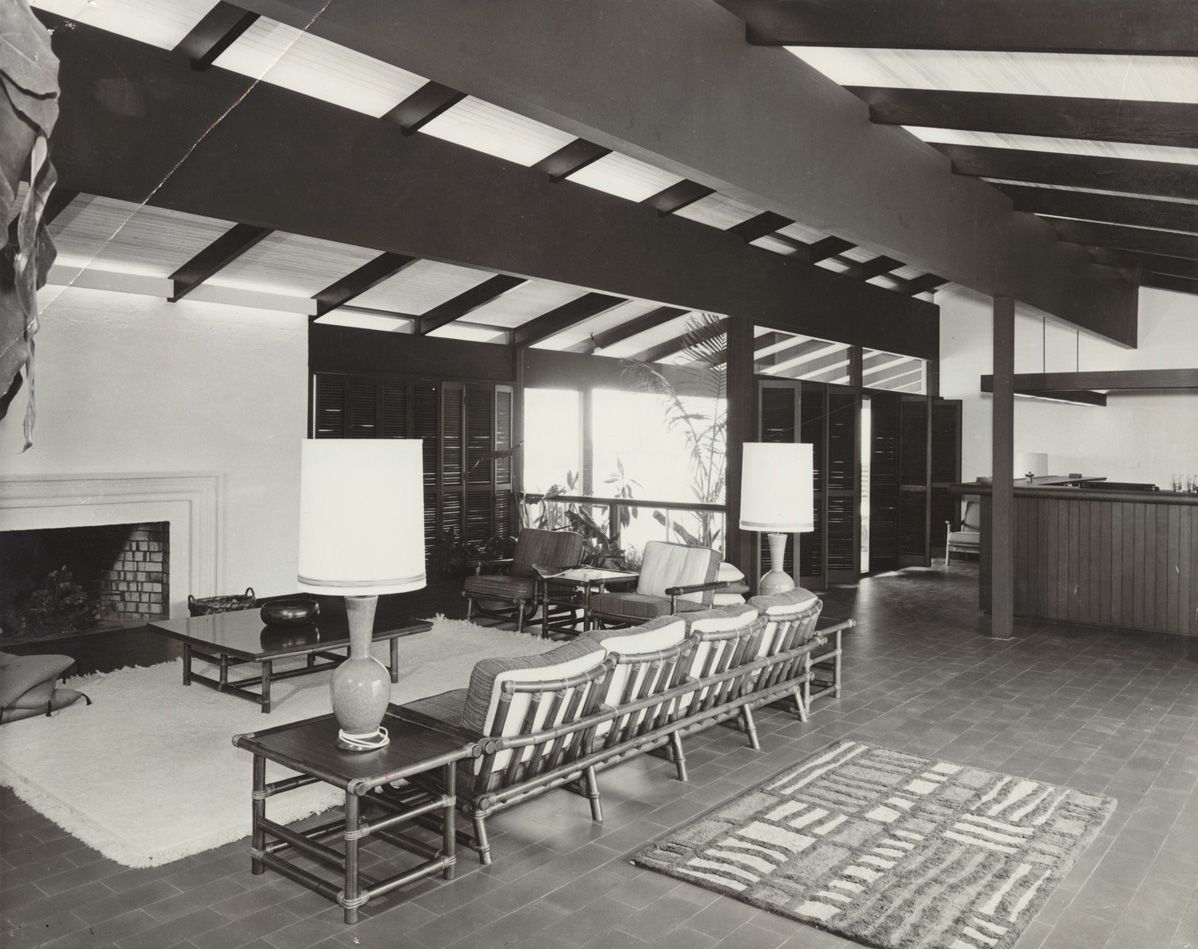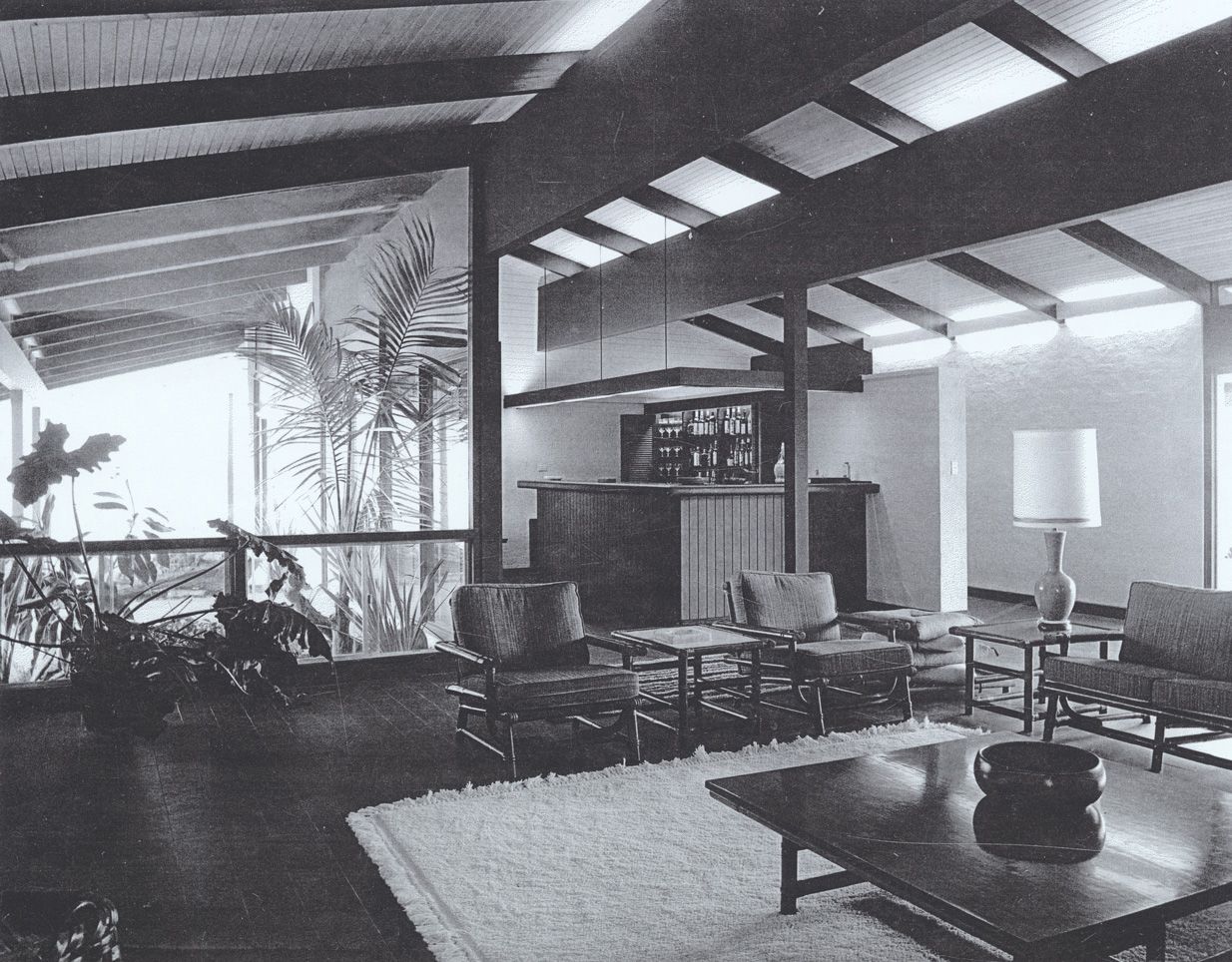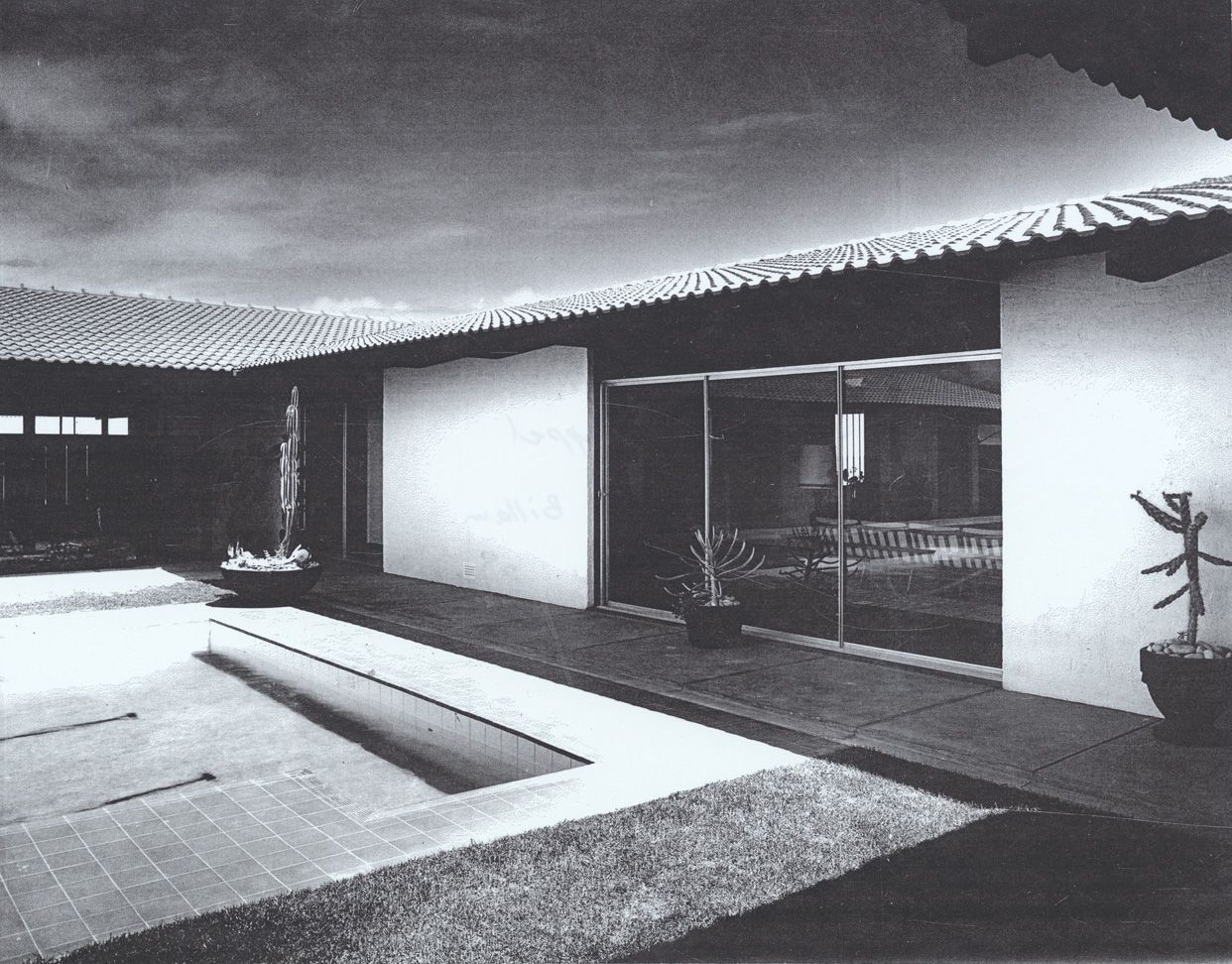 ZSOLT HOUSE, 1959
Architect: Robert Dickson
Location: Eden Hills
Istvan (Steve) Zsolt emigrated to South Australia from Hungary in 1950. He spent two years driving trucks on a government contract and this experience inspired him to plan a 'most up to date,' 'modern garage-restaurant sleeping house' (Advertiser, 13 May 1954) for interstate truck drivers in Frewville.
However, it wasn't until 1957 that he managed to secure financing from 'a petroleum company' to build a series of projects including the landmark Arkaba restaurant and hotel complex. This complex still stands in Fullarton, at the end of the South Eastern Freeway which is the key freight route into Adelaide.
Zsolt joined with local architect Robert Dickson on this project and its success led him to ask Dickson to design a home for him in the southern Adelaide suburb of Eden Hills.
On 16 October 1959, John Chappel wrote in The Advertiser
'Although the house is not large, it is obviously designed with thought for comfortable and luxurious living.' He described the house as having a 'main entrance on the eastern side of the house [which] opens onto a glazed hall, [and] gives a view over the swimming pool and recreation area.' In 1959, owning a swimming pool had real status as they 'were costly with few in existence in South Australia', a 'symbol of prestige and luxury' and a 'novelty to be enjoyed by a privileged few' (Building and Architecture, February 1963).
The property included a separate flat that was linked to the house by a terrace with a glass roof and which could be used by the family for outdoor dining, an important part of the new casual living trend.
As well as the flat, the house included a variety of entertainment and leisure spaces, including a tennis court, barbeque area, rumpus and games rooms, terrace, patio, balcony and pergola. In fact, there were so many luxury features that it needed to be rotated to fit on a double block!
If all this space wasn't enough, from the living room you could look through the three huge 3 metre by 1.8 metre windows across the tennis court to the ocean in the west.

If you enjoyed this story, make sure to share it via the social media buttons at the top of the page.
There are many stories to explore from the collections of the State Library of South Australia, visit the website to read and explore more. www.slsa.sa.gov.au
Bibliography
The following is an abridged bibliography used for researching this exhibition.
Aitken, Richard (2013) Cultivating modernism: reading the modern garden 1917-71. Miegunyah Press in association with the University of Melbourne Library, Carlton
Apperly, R, Irving, R and Reynolds, P (1989), A Pictorial Guide to Identifying Australian Architecture, Angus and Robertson, Sydney
Australian Home Beautiful Melbourne
Australian House and Garden Sydney: Kenmure Press
Beiers, G (1948) Houses of Australia: A survey of Domestic Architecture. Sydney, Ure Smith.
Bird, L. (2007) Russell S. Ellis: pioneer modernist architect, Louis Laybourne Smith School of Architecture and Design, University of South Australia, Adelaide.
Boyd, Robin (1967) "The State of Australian Architecture." Architecture in Australia, 56 : 454-465.
—— (1964) "American influences on Australian architecture and the Griffin Legend." Australia : Landscape Architect, 2 (Aug/Oct. 1964): 13-15.
—— (1960)"The Australian Prettiness." Australian Letters.: 17-20.
—— (1978) Australia's Home : Why Australians Built the Way They Did. 2nd ed. (Ringwood, Vic.: Penguin Australia.
—— "Architecture in Seclusion." Journal of the Hew Zealand Institute of Architects, 34 (Sep., 1967): 270-275.
—— (1971)"Architecture in Australia." Journal of the Royal Institute of British Architects, 78, 1: 12-20.
—— (1967) "The State of Australian Architecture." Architecture in Australia, 56 : 454-465.
—— "The Violent Muddle of Australian Contemporary Architecture." Architecture and Arts, 1 (Aug/Sept. 1958): 76-77.
—— (1982) The Walls Around Us. Reprint, Sydney: Angus & Robertson.
—— (1947) Victorian Modern: One Hundred and Eleven Years of Modern Architecture in Victoria, Australia. Architecture al Students Society of the R.V.I.A. Melbourne.
—— (1952) Australia's Home: Its origins, builders and occupiers. Ringwood, Vic, Penguin.
—— (1968), The Australian ugliness. Ringwood, Vic, Penguin in association with Cheshire.
—— (1970). Living in Australia. Sydney Pergamon.
Bunning, W. (1954) "The Changing Scene : Architecture in Australia', Rydge's : 338-339.
—— (1945) Homes in the Sun; the Past, Present and Future of Australian Housing. (Sydney: W. J. Nesbit.
Chappel, John (1954) "We could be developing an Indigenous Architecture" The Sunday Advertiser, 40
——(1956) "Cautious Approach to Modern Designs" The Advertiser, June 6.
——(1956) "Stone House Blends With Bushland Setting," The Advertiser, October 17., p14
——(1959) "Modern House is Elegant," The Advertiser, June
——(1959) "New Luxury House At Eden Hills," The Advertiser: October 16 p22
——(1960) "No 'Back' to This House," The Advertiser, August 5.
—— (1960) "Blends With Bushland Setting", The Advertiser, June 10.
——(1961) "Hills House Plan Preserves Trees," The Advertiser; April 7, p 18
——(1961) "Panoramic View From Hilltop," The Advertiser. January 11.
——(1963) "Adelaide's Largest Modern House," The Advertiser; June 27, p10
——(1963) "Japanese Tea-house In Beaumont Garden," The Advertiser, June 20.
——(1964) "Solicitor's Rooms In A Garden," The Advertiser; April 9.
——(1965) "Architect Wins Award of merit," The Advertiser; April 14 p18
——(1965) "Living Area Has new Interior," The Advertiser, June 24.
——(1965)"Garden Pavilion At Beaumont," The Advertiser, May 20.
——(1965) "What will the Future be of Housing?," The Advertiser. October 14, p21
——(1966) "Old Furniture in Modern House," The Advertiser; April 6.
——(1966) Art Treasures Adorn Spacious House," The Advertiser; August 18, p 18
——(1966) "Pioneer House Restored," The Advertiser ; July 28,p 14
Clerehan, Neil, & Royal Australian Institute of Architects (1961). Best Australian houses : recent houses built by members of the Royal Australian Institute of Architects. Cheshire, Melbourne
Cuffley, Peter (1993) Australian houses of the forties & fifties, The Five Mile Press, Knoxfield
Department of Architecture, University of Melbourne (1952-1971) The Cross-Section Collection. Available at https://csec.esrc.unimelb.edu.au/
Dickson, Robert (2010). Addicted to architecture. Wakefield Press, Kent Town, S. Aust
Dutkiewicz, A. (2008) Brian Claridge: Architect of light and space, Louis Laybourne Smith School of Architecture and Design, University of South Australia, Adelaide
Freeland, J.M (1968) Architecture in Australia: A History. Marrickville, N.S.W. Cheshire 1972
Freeman, Peter & Vulker, Judy (1992) The Australian dwelling. Royal Australian Institute of Architects, Red Hill, A.C.T
Goad, Philip & Willis, Julie (2011). The Encyclopedia of Australian Architecture. Cambridge University Press.
Johnson, D. L. (1980) Australian Architecture, 1901-1951 Sources of Modernism. Sydney: Syd Uni Press.
Lewi, Hannah & Goad, Philip (2019). Australian Modern: Architecture, Landscape & Design 1925-1975. Thames & Hudson.
McCartney, Karen (2019). Iconic: Modern Australian houses 1950-2000. Murdoch Books, Australia.
O'Callaghan, Judith & Pickett, Charles (2012) Designer suburbs : architects and affordable homes in Australia. NewSouth Publishing; University of New South Wales Press Ltd, Sydney
O'Callaghan, Judith & Pickett, Charles, (1992) The Australian dream : design and the home of the 1950s. Powerhouse Museum, Ultimo, N.S.W
Page, M (1986) Sculptors in Space: South Australian Architects 1836-1986, RAIA (SA), Adelaide
Pilkington, Michael and Collins, Julie (2017) 'Dickson and Platten Architects 1950-2000', Phillips Pilkington Architects, North Adelaide.
Platten, Newell (2016). Hybrid beauty : an architect, a missionary, and their improbable desires. Wakefield Press, Mile End.
Queale, Michael (1996). Adelaide's architecture and art: a walking guide compiled by Michael Queale and Nicolette Di Lernia. Kent Town, South Aust.: Wakefield Press.
Royal Australian Institute of Architects, South Australian Chapter, (1980). Architecture SA 1970-1980. Unley: the Chapter.
Seidler, H.(1963) Houses, Buildings & Projects - 1955/63, Sydney: Horwitz
——(1954) Houses, Interiors, Projects. Sydney Associated General Publications.
South Australian Institute of Architects (1960). Architecture in South Australia. SA Chapter, Adelaide
Stead, Naomi, Lee, Tom, McEoin, Ewan & Patty Megan (2021) After The Australian Ugliness. Thames & Hudson
Symons, S (2019) Modernist Adelaide: 100 Buildings 1940s-1970s. Modernist Adelaide.
Taylor, J (1986) Australian architecture since 1960. Law Book Co Ltd.
Urford, Jacqueline C. (2016) The architecture of Peter Muller, Sydney, NSW Walsh Bay Press
Walkley, Gavin (1977). Louis Laybourne Smith: a memoir. South Australian Institute of Technology, Adelaide
Wallace, F.D, (1964). Houses around Adelaide, SA Chapter RAIA, Adelaide.
Contact Us | Media Centre | Copyright and the collection |
Search the Catalogue | Privacy Statement | Disclaimer